Mock interviews for everyone at the touch of a button.
Give your group the realistic interview experience they need, without the hassle of in-person mock interviews.
Book a Demo
TIME-SAVING
No more scheduling.
No more meetings.
Say goodbye to tedious one-on-one meet ups and put your mock interviews on auto-pilot with realistic simulated interviews.
APPROACHABLE
Mock interviews they can take on their own.
By self-conducting mock interviews, your members will be empowered to approach interview training confidently, instead of putting it off.
Book a Demo
CUSTOMIZABLE
Build custom interviews with your own questions.
Run the interview simulator using your own questions and quickly assign your custom-built interview to your entire group.

Instantly assign to everyone
Send out mock interview assignments to your entire group in a matter of seconds.
Easily evalute mock interviews.
Responses are recorded and organized individually, making it easy to rate and review interviews.
DETAILED ANALYTICS
Track activity with the admin panel.
Monitor overall interview activity to keep track of how engaged your members are.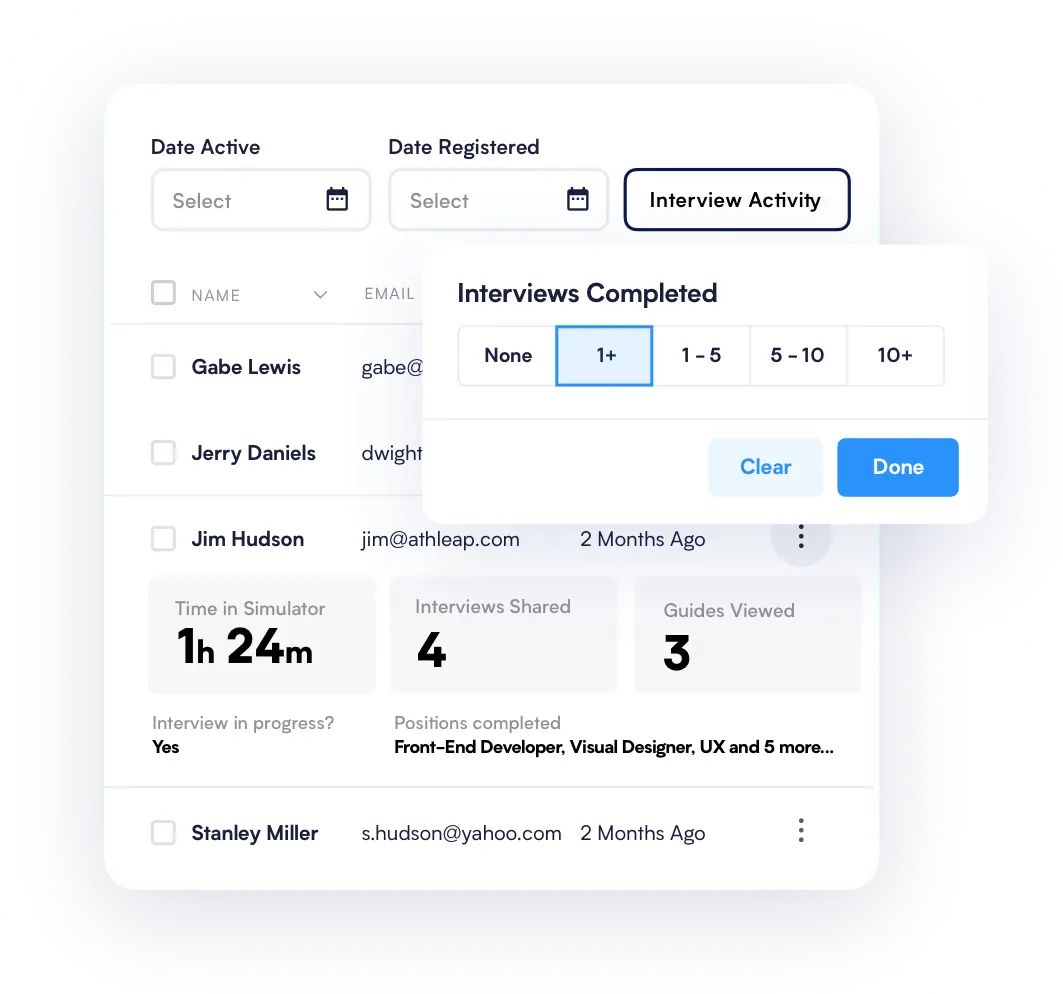 ADMIN PANEL
Manage users and filter them based on activity.
Manage your members and use filters to know exactly which members are doing what.
WHITE LABEL
Our entire experience, customized to match your brand.
We'll set up your very own version of the app with your logo and brand colors so you can provide a seamless experience to your members.
Take mock interviews off your to-do list.
We recreate high-stress interviews using real questions from industry professionals so you have one less thing to worry about.
Enable career success.
With unlimited access to virtual mock interviews, your members can develop their interview skills quickly and give their career a jumpstart.
Empower everyone with discounted rates for groups.
We offer lower rates for groups so you can easily provide access to all your members.
Book a Demo
"The staff was very helpful and always willing to support the growth of the program. The platform was always expanding by adding additional tools and programs. I really liked how students could log-in and record their interview and then send it to me for review. This saved time when my calendar was already full with student appointments."
-Alicia Acker, Career Services Coordinator at Blackhawk Technical College
ORGANIZATIONS
Instantly provide mock interviews for everyone in your organization.
Give everybody in your group access to realistic mock interviews without ever needing to lift a finger.
Book a Demo