BACK
Receptionist Interview Questions
Position Summary
A receptionist's main job responsibility is to greet visitors in person or on the telephone. This includes directing visitors to the correct department, maintaining department directories, and answering any questions someone might have. Depending on the company, a receptionist may be responsible for maintaining the log book and issuing visitor badges to ensure security and safety.
A receptionist position is a unique blend of scheduling, customer service, and administration. As the first person a customer communicates with within the company, you must be able to provide customer service while still maintaining order.
Responsibilities
Receptionist responsibilities may include:
Answering a multi-line telephone system
Greeting customers
Generating daily reports
Answering emails
Scheduling meetings with clients
Data entry
Skills
Receptionists are integral in fostering communication between a company and its clients. To provide as pleasant an experience as possible, a skilled receptionist will need to:
Maintain a friendly demeanor at all times
Be able to keep track of calls as they come in
Be able to maintain multiple schedules as needed
Possess superior communication skills
Prioritize meetings and calls as needed
Qualifications
Receptionist positions tend to be entry-level and don't require much to qualify. Many positions don't even require a high school diploma. Instead, you should focus on soft skills such as communication and customer service. A previous track record in customer service or clerical work will help give you the upper hand as well.
If you're getting ready for your first interview as a receptionist, you can find more information about preparing for your first interview on our blog - 5 tips for acing your first interview.
Salary
Salaries for receptionists range between $32K and $50K with the median being $40K.
Factors impacting the salary you receive as a receptionist include:
Degrees (high school diploma, associate's, bachelor's)
Years of Experience
Location
Reporting Structure (seniority of the executive you report to)
Level of Performance - exceeding expectations
Interviews Are Unpredictable
Be ready for anything with the interview simulator.
Receptionist Interview Questions
Question: Can you tell me about your experience as an administrative assistant, secretary, or receptionist and what duties you performed?
Explanation: This is an example of an opening or general question. The purpose of this type of question is to get you talking, learn a little bit more about you, and provide the interviewer with some information they can use to ask you additional questions.
Example: "As noted in my resume, I have spent six years as either a receptionist or an administrative assistant. Both of these roles were with organizations similar to yours. In those jobs, I did things like greet guests in person or on the phone, route calls to the appropriate individuals, provide support skills like data entry and filing, and just about anything else needed to keep the office running smoothly."
---
Question: Please provide me with a summary of your customer service experience and how you approach this important task.
Explanation: This is another general question in which the interviewer is seeking to better understand your skills in the area of customer service. Since you will be the face of the organization that customers and other individuals first encounter, this is an important skill for you to have and be able to describe to the interviewer.
Example: "One of the things I realized early in my career is that to be an effective receptionist, I needed to learn how to deal with people effectively. Since I am often the first person in the company that individuals encounter, I make sure that I am always positive and congenial when greeting guests on the phone or in person. I try to determine their needs and then figure out how to best address them. I make it a point to learn about the resources the organization offers its customers and become familiar with the products and services the company promotes."
---
Question: How many employees did you either support or interact with in your last job?
Explanation: This is yet another general question the interviewer will ask to learn more about you. This particular question is geared toward understanding your ability to support multiple employees. This impacts your workload, your multitasking skills, and your knowledge of the scope of the organization and the different jobs each individual performs.
Example: "In my most recent position, I supported six people directly and a total organization of 40 employees. The six I supported included the office manager and five administrative assistants. I handled their work overflow, including data entry and filing. The duties are performed to support the rest of the staff, including distributing mail, routing phone calls to them, and any ad hoc work they needed which I had time to do."
---
Question: How strong are your computer-related skills?
Explanation: This is the first operational question the interviewer has asked. Operational questions provide the interviewer with information about how you go about performing the tasks required for this job. The interviewer wants to ensure that the way you perform a task aligns with their processes and procedures.
Example: "I've been working on computers since I was a child. I'm very familiar with Microsoft Office Suite as well as Google Office apps. This includes word processing, spreadsheets, and creating PowerPoint type presentations. I've also worked with several different CRM systems and other software typically found in an office environment."
---
Question: What role does a receptionist play in a customer's first impression of an organization?
Explanation: This is another operational question which the interviewer will ask to see if your perception of the role of a receptionist is the same as theirs. You stated earlier that you try to make a good impression since you are typically the first person someone from outside the company encounters. You should follow up on this theme, talking about how you act as an ambassador for the company.
Example: "The receptionist is often the first person someone from outside the company encounters when visiting the office or calling on the phone. This means the receptionist has the opportunity to make the first impression, good or bad. I keep this in mind every time I encounter somebody, making sure I am upbeat and express interest in them and their reason for contacting the company. I consider myself an ambassador of the company and the first person that can influence a sale or positive reaction to what we do."
---
Question: How do you manage your workload to keep up in a fast-paced work environment?
Explanation: This is another operational question in which the interviewer is attempting to discover how you organize your day and deal with both planned and unplanned activities. This is important as a receptionist because you have to both greet visitors and answer the phone when needed while performing other office tasks when you're not doing this.
Example: "I learned early in my career that no two days as a receptionist are the same. Visitors arrive, and the phone rings, and I must address both of these as they occur. Additionally, I am responsible for completing other office tasks, including data entry, word processing, filing, and other duties to help the company employees. I prioritize these planned activities as best as I can while ensuring I have time to handle phone calls and visitors. If necessary, I'll work approved overtime to finish the other tasks which need to be done."
---
Question: How do you prioritize calls, clients, deliveries, and other issues that must be addressed immediately?
Explanation: This is a follow-up question to the previous one. You noted in your previous answer that you prioritize activities such as the ones described in this question. The interviewer will ask follow-up questions to better understand exactly how you go about doing something you mentioned in a prior answer. You can anticipate follow-up questions any time you answer an interviewer's question.
Example: "As I mentioned in my earlier answer, while I try to stay busy with a wide variety of office-related tasks, I'm always ready to respond to visitors, phone calls, deliveries, and other issues that demand my immediate attention. I am always looking out for these 'pop-up' opportunities and have disciplined myself to immediately stop what I'm working on in order to address them. I prioritize people, calls, and tasks - in that order."
---
Question: How do you keep your daily schedule organized and on track?
Explanation: You'll note that this is the third operational question the interviewer has asked about this specific topic. This indicates it is very important to them or they may have had some issues with this in the past. It may be the reason they're looking to hire a new receptionist. When interviewers ask multiple questions about a single topic, you need to stay focused and continue to provide information even though you think you've already addressed this topic.
Example: "Staying organized is easy if you first plan and then remain flexible. Planning the day and the tasks you are going to complete is critical because it gives you a framework to work within. Remaining flexible is important because stuff happens, and you need to respond to it when it does. The key is addressing the ad hoc events as they occur and then returning to your planned activities. This becomes easier the more you do it."
---
Question: Can you describe a time you had to deal with an angry customer or guest, either on the phone or in-person?
Explanation: This is an example of a behavioral question. Interviewers will ask behavioral questions by creating a scenario and then asking how you would react to it. The best way to respond to behavioral questions is by using the STAR framework. Repeat the Situation the interviewer is asking about, state the Task you needed to accomplish, describe the Actions you took, and then discuss the Results.
Example: "Unfortunately, being a receptionist means having to deal with people who are upset about something. I've developed the methodology to address this which seems to work. In my last role, a customer called and was angry their order was late. Even though it was not my fault, I knew I had to calm the customer down and help them resolve the situation. I actively listened to their complaint and asked specific questions involving their order. I then told them I would make inquiries with the shipping department and contact them when I had an update. I prioritized this, stopping everything else I was working on. I was able to obtain a tracking number from the shipping department and provided this to the customer. I also got the sales team to agree to a 10% price reduction due to the late delivery. This satisfied the customer. They thanked me for my efforts and subsequently placed another order with the company."
---
Question: What did you do at your last company to increase revenues, reduce costs, or save time?
Explanation: This question demonstrates why companies hire employees. Unless you can help the company make money, save money, or save time, they don't need you. You should keep this in mind when answering any interview questions. Always be demonstrating your value to the company and showing them how you can accomplish one of these objectives.
Example: "Whenever I join a new company, I am always looking for ways to improve processes, reduce the time it takes to accomplish a task, or ways I can help generate incremental revenue for the company. As a receptionist, I can generally accomplish one or more of these objectives. In my previous role, I helped create a universal calendar for the firm in which every employee entered their schedule for the week. This enabled me to be ready for any visitors scheduled to be in the office that day. When a visitor arrived, I already had their name badge prepared and some of the information on the sign-in sheet completed for them. I also knew exactly where the employee with whom they were meeting was when they arrived. This reduced the amount of time it took to check a visitor in and ensured the employee greeted them within minutes of their arrival. The feedback I received was that visitors often commented about this, and it led to a better impression of the company, our employees, and the products and services we offered."
---
Additional Receptionist Interview Questions
Most of your day you will be required to multi-task. Will you be able to stay focused and get your job done? How accustomed are you to multi-tasking?

How would you deal with an angry guest?

What is your definition of professionalism?

What would you do if you found you had double booked a client?

If the phones were constantly ringing, would you feel overwhelmed?
A word of warning when using question lists.
Question lists offer a convenient way to start practicing for your interview. Unfortunately, they do little to recreate actual interview pressure. In a real interview you'll never know what's coming, and that's what makes interviews so stressful.
Go beyond question lists using interview simulators.
With interview simulators, you can take realistic mock interviews on your own, from anywhere.
My Interview Practice offers a simulator that generates unique questions each time you practice, so you'll never see what's coming. There are questions for over 120 job titles, and each question is curated by actual industry professionals. You can take as many interviews as you need to, in order to build confidence.
List of
Questions
In-Person
Mock Interview
My Interview
Practice Simulator

Questions Unknown Like Real Interviews

Curated Questions Chosen Just for You

No Research Required

Share Your Practice Interview

Do It Yourself

Go At Your Own Pace

Approachable
The My Interview Practice simulator uses video to record your interview, so you feel pressure while practicing, and can see exactly how you came across after you're done. You can even share your recorded responses with anyone to get valuable feedback.
Check out My Interview Practice
Positions you may be interested in
The better way to practice interviewing.
Simulate realistic interviews for over 120 job different titles, with curated questions from real employers.
Learn More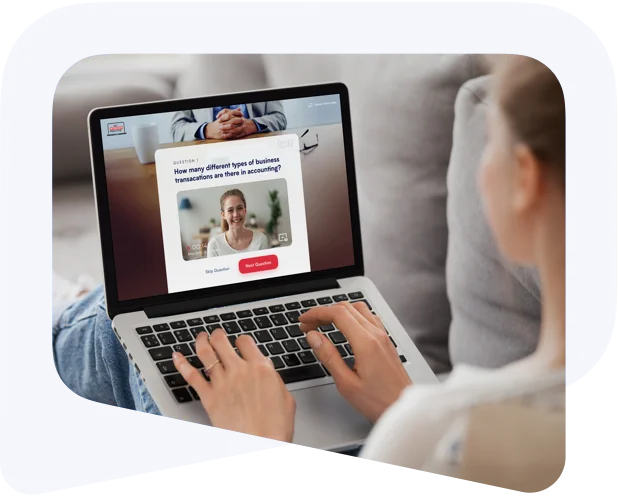 Get the free training guide.
See the most common questions in every category assessed by employers and be ready for anything.
Get the Guide