BACK
Illustrator Interview Questions
Position Summary
Illustrators produce commercial art for newspapers, magazines, books, greeting cards, catalogs, and other publications. Art can also be commissioned for work such as instruction manuals and technical schematics.
Illustrators primarily create drafts and build on them based on client feedback. Illustrators can also be expected to work with animators and game designers in creating concept art and storyboards.
Responsibilities
Illustrators are responsible for:
Creating drafts and shaping finished work to fit a client's needs
Working closely with designers and editors
Researching and drafting examples of potential ideas for clients
Negotiating terms for deadlines and payment
Promoting themselves as freelancers
Skills
Potential skills for an illustrator include:
Familiarity and proficiency in relevant computer assisted design (CAD) programs
Proficiency in drawing, sketching, and painting
Good interpersonal skills for working with clients and editors
Self-motivational skills required to meet deadlines and attract clients as a freelancer
A creative mind and artistic ability
Qualifications
Illustrators are often freelance workers, and while a bachelor's degree in visual art, illustration, or graphic design is advantageous, freelancers can be self-taught as long as they provide a proper portfolio. Post-graduate programs can allow an illustrator to specialize in fields such as medical illustration, but like a bachelor's degree, they are not always required.
Certification and training in computer assisted design programs such as Adobe Creative Suite are advantageous as well. At the end of the day though, portfolio and ability are what will determine employment.
Salary
Salaries for illustrators range between $39K and $72K with the median being $55K.
Factors impacting the salary you receive as an illustrator include:
Degrees (apprenticeship certificates, associate's, bachelor's, master's)
Location
Previous Illustrations, Recognition, and Awards
Reporting Structure (seniority of the manager you report to and number of any direct reports)
Level of performance - exceeding expectations
Interviews Are Unpredictable
Be ready for anything with the interview simulator.
Illustrator Interview Questions
Question: What life events influenced your decision to become an illustrator?
Explanation: This is an opening question which the interviewer will ask to begin the conversation, learn more about your background, and collect information they can use for the balance of the interview. This provides you the opportunity to describe your career narrative and push the interview in a direction you are comfortable discussing.
Example: "I have always liked to draw and spent more time creating illustrations than playing sports when I was a kid. This passion for drawing continued throughout high school and college, where I was an art major. I did quite a bit of freelance work while still in school. I built a portfolio that allowed me to get regular positions with a variety of companies needing illustrations for marketing and branding purposes."
---
Question: Can you describe the types of illustration projects you prefer to work on?
Explanation: This is another question which the interviewer will ask to learn more about your background. You can prepare for these types of questions by researching the organization and the type of work they do before the interview. Your answer should align with the job description you are interviewing for and the type of work the organization produces.
Example: "The projects I prefer to work on involve innovative brands whose products have clean lines, are readily identifiable, and have a strong following. Combined, they present a challenge when illustrating the products because the users or customers are so loyal and identify strongly with the brand. I also enjoy projects in which I have a great deal of flexibility in my designs that allows me to add my style to the illustrations."
---
Question: Out of all of the illustrations you have created, what is your most favorite, and why?
Explanation: This is a follow-up question to the previous one. During an interview, the interviewer will ask follow-up questions if they need more information about the answer you provided or have a particular interest in the topic you are discussing. You should anticipate follow-up questions any time you provide an answer to the interviewer.
Example: "My favorite illustration was for a wireless headphone device. The project met all of the criteria I discussed in my last answer. The product had a strong and passionate fan base, and the manufacturer allowed me a great deal of creative license when illustrating the headset. The customer was pleased with the illustration I created, and it has become somewhat of an icon among their customers."
---
Question: Tell me about a project you were involved with in which one of your illustrations contributed to the development of a brand image.
Explanation: This is an essential question because it addresses the purpose of the illustrations you create. You should keep in mind the organization is interested in hiring an illustrator to accomplish a goal that is aligned with their business objectives. Although you're an artist, you're not creating art for art's sake. Your job is to develop a brand and help market products. Keep this in mind when providing answers to any questions the interviewer asks you.
Example: "Although I have worked on many projects involving brand development, the most notable one you may recognize was for Slack. I was on the team that designed and illustrated their logo. It has become so iconic that when people see it, they don't need to see the name of a company that is associated with it; they immediately recognize it as being Slack. I enjoy being part of projects where the illustrations I create become iconic."
---
Question: If you fall behind on a project, do you prefer to ask for more time to complete your illustration, or do you rush to meet the deadline and possibly comprise the quality of the piece?
Explanation: This is an operational question. Operational questions help the interviewer understand how you go about completing the tasks involved with the role for which you are interviewing. Operational questions should be answered directly and concisely. The interviewer will ask a follow-up question if they need additional information.
Example: "Naturally, I try never to fall behind on a project. However, if I do, the first thing I will ask for is a little additional time to complete the illustration. I strive to make sure the illustration is exactly what the customer is looking for and that my work is of the highest quality I can create. If additional time is not available, I work extra hours on my own to finish the illustration on time without sacrificing quality."
---
Question: What steps do you take if the final colors of a printed illustration are different from the ones you designed on your computer?
Explanation: This is a technical question. Technical questions address specific issues related to the job you do. Much like operational questions, technical questions should be answered directly and succinctly with little embellishment. Anticipate follow-up questions any time you answer these types of inquiries.
Example: "As an illustrator, I'm aware there are differences between the colors I see on my monitor and the final product, which is either printed or displayed on other monitors. This is difficult to control since the illustration is usually viewed online, and every monitor projects slightly different colors. However, if the illustration is to be printed, I am particular about the colors I use, and I provide detailed instructions to the printer about how to come as close as possible to the colors I intended for the illustration."
---
Question: What are some ways you can add perspective to an image?
Explanation: This is another technical question. Adding perspective to an image can be accomplished using a variety of different techniques. The interviewer is seeking to understand how you go about doing this. It will confirm your qualifications for the job as well as give them some ideas about your technical expertise.
Example: "As you are probably aware, there are several different techniques I can use to add perspective to an image. The ones I prefer are creating perspective lines, using differences in the size of objects, or making the images in the foreground sharper and clearer than the ones meant to be in the distance."
---
Question: When working on a design team, how do you resolve disputes between the team members about how to illustrate an item accurately?
Explanation: This is a behavioral question. Behavioral questions present you with a scenario and then seek to understand how you will react. The best way to respond to behavioral questions is by using the STAR framework. You restate the Situation, describe the Task you are trying to accomplish, talk about the Actions you take, and then discuss the Results you are seeking to obtain.
Example: "The dynamics of a design and illustration team are always interesting. Each of the team members brings their own artistic perspective to the project. While this is usually a good thing, it can sometimes cause conflict between the team members who each have an opinion about how the project should be completed. If a dispute does arise, I usually get the team together in a meeting where we discuss the objective of the project, solicit each member's input, and try to reach a consensus. If this doesn't work, I request that either the manager or the customer arbitrate the dispute to help us resolve our differences."
---
Question: What do you do to ensure your illustration is produced correctly in the medium it was designed for?
Explanation: This question is similar to another one you have already been asked during the interview. Interviewers will often ask similar questions at different points in the interview. This enables them to calibrate your answers and determine if you're consistent. As long as you answer the questions truthfully and forthrightly, this should not be an issue.
Example: "As I noted earlier, the colors I see on my monitor when I'm illustrating an object are often not the colors that other viewers see when they are looking at the illustration online. The colors I use also may not match the colors of a printed image of the illustration. While I can't control the colors projected on other monitors, I can provide printers with detailed instructions about the colors I intended for the illustrations and how to go about reproducing them."
---
Question: What is the first thing you do when starting a new project, and how do you know when the job is complete?
Explanation: This is another operational question. The operational questions seek to understand how you go about doing the job for which you are interviewing. The answer to this operational question should be direct and concise. You should always anticipate follow-up questions when providing answers to these types of inquiries.
Example: "When starting a project, the first thing I do is meet with the customer I am working for. I seek to get a clear understanding of the image they have in their mind for the product I am illustrating. Sometimes, I will do some rough sketches and show them some color swatches just to make sure we're on the same page. I've found this reduces the number of changes I need to make after my first draft of the illustration. Finishing an illustration is just as challenging. Most artists will tell you it's exceedingly difficult to stop editing an image in the quest for absolute perfection. The metrics I use to determine when a project is complete are how close we are to the deadline and how small the changes I am making are."
---
Additional Illustrator Interview Questions
What's been your most challenging project to date?

How do you handle a client who isn't sure about what they want?

What training have you had while pursuing this line of work?

Do you work well on a team?

How do you handle criticism?

How do you schedule your work to make sure you meet deadlines?

What illustration software are you familiar with? Which do you prefer to work with?

What skills make you the right choice for this project?

How do you keep yourself motivated even when a project is not particularly appealing to you?

What is your experience in technical illustration?
A word of warning when using question lists.
Question lists offer a convenient way to start practicing for your interview. Unfortunately, they do little to recreate actual interview pressure. In a real interview you'll never know what's coming, and that's what makes interviews so stressful.
Go beyond question lists using interview simulators.
With interview simulators, you can take realistic mock interviews on your own, from anywhere.
My Interview Practice offers a simulator that generates unique questions each time you practice, so you'll never see what's coming. There are questions for over 120 job titles, and each question is curated by actual industry professionals. You can take as many interviews as you need to, in order to build confidence.
List of
Questions
In-Person
Mock Interview
My Interview
Practice Simulator

Questions Unknown Like Real Interviews

Curated Questions Chosen Just for You

No Research Required

Share Your Practice Interview

Do It Yourself

Go At Your Own Pace

Approachable
The My Interview Practice simulator uses video to record your interview, so you feel pressure while practicing, and can see exactly how you came across after you're done. You can even share your recorded responses with anyone to get valuable feedback.
Check out My Interview Practice
Positions you may be interested in
The better way to practice interviewing.
Simulate realistic interviews for over 120 job different titles, with curated questions from real employers.
Learn More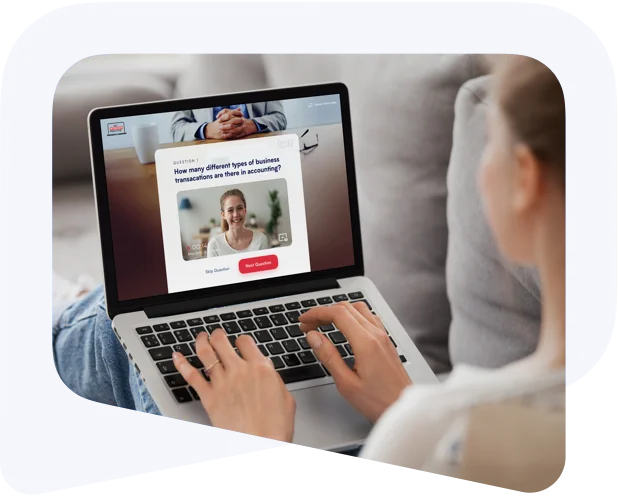 Get the free training guide.
See the most common questions in every category assessed by employers and be ready for anything.
Get the Guide