BACK
Dentist Interview Questions
Position Summary
Dentists are responsible for diagnosing and treating problems that affect oral hygiene, including areas such as the teeth, gums, and tongue. This can include advising patients on relevant preventative care techniques, providing restorative care, and recommending dietary changes based on oral health.
Although dentists can specialize in certain fields, such as oral surgery or orthodontics, they typically provide routine day-to-day services, such as check-ups and filling cavities. Dentists can also expect to perform certain administrative tasks, such as filling out medical charts or prescriptions. As such, a dentist must have strong organizational and interpersonal skills.
Responsibilities
Dentist responsibilities may include:
Performing routine teeth cleaning
Operating a wide range of dental tools and equipment
Filling cavities
Repairing chipped or fractured teeth
Prescribing medications
Documenting information about all consultations
Educating patients on how to maintain good oral hygiene
Skills
Oral hygiene is essential to living a happy, healthy life. In order to better advise and serve patients, a skilled dentist will:
Maintain organized records of all patients
Have an eye for detail in order to properly diagnose patients
Communicate clearly and effectively with both staff and patients
Keep patient comfort in mind when performing restorative care
Supervise technical, administrative, and medical staff
Qualifications
Dentists are highly skilled individuals and require extensive training. After graduating from a four-year college, candidates must pass a 280-question Dental Acceptance Test in order to get into a dental school. Once approved, participants will then have to complete a four-year program to obtain a doctoral degree. Once this degree has been completed, students must pass a written and clinical exam in order to receive a license to practice within their state.
If you're getting ready to interview for a position as a dentist, you can prepare by researching the company as much as possible. Learn about the 9 things you should research before an interview.
Salary
Salaries for dentists range between $125K and $208K with the median being $157K.
Factors impacting the salary you receive as a dentist include:
Degrees and Training (doctoral degree, licensing)
Years of Experience
Location
Reporting Structure (seniority of the supervising dentist or practice owner you report to and number of direct reports such as dental assistants and office staff)
Level of Performance - exceeding expectations and positive social media ratings
Interviews Are Unpredictable
Be ready for anything with the interview simulator.
Dentist Interview Questions
Question: When you decided on a career in healthcare, what influenced your choice of becoming a dentist and not a medical or veterinarian professional?
Explanation: This is an opening question which the interviewer will use to get you talking, learn about your background, and discover some information they can use for subsequent questions.
Example: "I believe I knew as early as elementary school that I wanted to be in the healthcare profession. My earliest exposure to the healthcare industry which I can remember was at the dentist's office. My experience was great with no pain, and I was fascinated by the instruments the doctor used. I think this is what initially got me interested in dentistry and why I've never considered any other healthcare profession."
---
Question: Can you explain your attention to detail and how this benefits you as a dentist?
Explanation: This is another general question which ties a soft skill to the position for which you are interviewing. Soft skills are part of any profession, and you should be able to speak about them during an interview.
Example: "As a dentist, attention to detail is critical. You have to be able to identify small imperfections in a patient's teeth and gums and know what they indicate. Sometimes what first appears to be a stain is actually a crack or fracture in a tooth. Missing this would be catastrophic and could impact the level of care you provided to the patient. I will often take extra time during an examination to make sure I don't miss any of the details."
---
Question: What is your experience working in a fast-paced environment with multiple competing tasks?
Explanation: This is an operational question which the interviewer is using to determine your experience working in a dental office and your ability to deal with conflicting demands for your time and attention. Operational questions help the interviewer understand how you go about doing your job. The best way to answer this type of question is directly and concisely with little extra detail. The interviewer will ask a follow-up question if they need additional information.
Example: "One of the things I like most about being a dentist is the environment in which we work. Many practices have multiple chairs and several dental assistants. The demand for the dentist's time is constant, and you have to be able to switch between patients with little to no advanced notice. I thrive on this, and I trust the entire team to work together to be able to handle multiple demands for our time and the fast-paced environment typical of a dentist's office."
---
Question: What steps do you take to determine if dental X-rays are needed, and what measures do you take to keep patients and staff safe during this procedure?
Explanation: One of the most invasive procedures practiced in a dental office is X-rays. Extreme measures and safety precautions need to be taken to ensure the safety of both the staff and the patients. Having knowledge in this area and being able to address this issue will help convince the interviewer that you're qualified to join their practice.
Example: "The first step in making sure that X-rays are not overused and are done appropriately is to determine when X-rays are actually needed. Even though annual X-ray examinations are recommended, I often put this off if the patient is a child or has a record of good dental health. Once I determine that X-rays are required, I make sure we follow strict protocols provided for this procedure. I rotate the staff members to make sure no one is exposed too often. I also recommend adopting newer technologies that replace X-rays and provide better diagnostic information."
---
Question: What anesthesia procedures are you familiar with, and which of these would you use for a patient who only needs a filling?
Explanation: This is another operational question. The interviewer is trying to determine your knowledge of anesthesia and the procedures you use. They are also asking a specific question about using anesthesia for a relatively minor issue. The best way to respond to this question would be to list the various anesthesia types you are comfortable with and then address the question of which one you would use for the filling.
Example: "As a dentist, I'm certified in each of the types of anesthesia used in a dental practice which include local such as lidocaine, nitrous oxide, and full-body sedation. I always try to use the least amount of anesthesia necessary. Most procedures can be done with little to no anesthesia. For fillings, I will use lidocaine which is preceded by a mild numbing agent in the area where I will place the injection. I monitor the patient's pain to ensure the anesthesia is working, and I try to complete the procedure as quickly as possible to avoid having to inject the patient again."
---
Question: What are your beliefs about the relationship between oral health and total body health?
Explanation: This is another operational question in which the interviewer is trying to determine how you consult patients about their overall health. Relating dental health to overall health is an important skill every dentist must possess. You should be able to communicate this to the interviewer, and more importantly, to your patients.
Example: "Dental health is one of the fundamental elements to overall patient health. Your mouth is the portal into your body, and health issues that occur in the mouth can lead to other issues. These issues can involve the immune system, the digestive system, the circulatory system, and other areas of the patient's body. Additionally, good dental hygiene will promote good overall hygiene habits for the patient."
---
Question: How current is your knowledge of dental technology and procedures?
Explanation: This is another operational question in which the interviewer is trying to determine how current you are with the technology and practices used in the dental industry. Like most healthcare practices, dentistry is continually evolving and changing. Keeping up with these changes is critical so dentists can offer their patients the absolute best care available. Doing this requires a great deal of time and energy, but the benefits justify it. You should be able to easily describe your continuing education plan.
Example: "The field of dentistry is constantly changing, and new processes, procedures, and technology are being introduced. It is critical to keep up with them. I do this by subscribing to journals, reading industry blogs, attending dental conferences, and taking formal continuing education classes. I also stay in touch with my peers and the representatives of the suppliers who provide a great deal of information."
---
Question: How would you address a situation in which a patient is unhappy with the care you provided them?
Explanation: This is a behavioral question. Behavioral questions present a scenario and ask how you would respond to it. The best way to address behavioral questions is by using the STAR framework. You state the Situation, describe the Task you are trying to complete, talk about the Actions you would take, and a state Results you are trying to obtain.
Example: "If a patient were to complain about the service they received, I would try to understand what they were unhappy about and see if I could change their opinion. I would first ask what procedure they received and why they are unhappy. I would then discuss the details of the procedure and clarify any misunderstandings they may have. I would offer to correct the situation by either performing another procedure or refunding some or all of the cost. The goal of this would be to address the patient's concerns and get them to agree to continue working with the office."
---
Question: Do you have any experience with the business side of running a dental practice?
Explanation: This is another operational question. Dentists are not only doctors, but they are also businesspeople. A successful practice requires a balance between medical procedures and running an efficient and profitable operation. Your experience in both of these areas will help you qualify for the position for which you are interviewing.
Example: "Some of my favorite classes in dental school were the business classes. While I enjoy the medical side of a dental practice, I'm just as fascinated by the business side. I am keenly aware of P&L statements, efficient operations, and cost savings that can be realized in each element of the practice. I also depend on other business professionals such as accountants and marketing consultants to help me create a practice that provides the best care at reasonable prices which is also profitable."
---
Question: Does your long-term career plan include owning your own practice at some time in the future?
Explanation: This is a general question in which the interviewer is trying to determine your future plans. Your answer should be honest, but it should also align with the position for which you are interviewing. Some medical professionals are very comfortable working for somebody else and just practicing their profession. Others are more ambitious and want to own a business where they have more control, earn more money, and can grow it into something that can later be sold.
Example: "This is an interesting question and one that I have often thought about. While I understand the benefits of owning your own practice, I don't believe I would like to do this at any time in the near future. I am delighted practicing dentistry and would like to spend my time focused on this rather than running a business. This may change as I get older, but for the current time, I have no plans to start or purchase a dental practice."
---
Additional Dentist Interview Questions
What is your dental philosophy?

What do you like most about dentistry? What do you like the least?

How would you handle a patient who is scared of dentists?

What procedures do you have the most experience with?

How comfortable are you working with children?
A word of warning when using question lists.
Question lists offer a convenient way to start practicing for your interview. Unfortunately, they do little to recreate actual interview pressure. In a real interview you'll never know what's coming, and that's what makes interviews so stressful.
Go beyond question lists using interview simulators.
With interview simulators, you can take realistic mock interviews on your own, from anywhere.
My Interview Practice offers a simulator that generates unique questions each time you practice, so you'll never see what's coming. There are questions for over 120 job titles, and each question is curated by actual industry professionals. You can take as many interviews as you need to, in order to build confidence.
List of
Questions
In-Person
Mock Interview
My Interview
Practice Simulator

Questions Unknown Like Real Interviews

Curated Questions Chosen Just for You

No Research Required

Share Your Practice Interview

Do It Yourself

Go At Your Own Pace

Approachable
The My Interview Practice simulator uses video to record your interview, so you feel pressure while practicing, and can see exactly how you came across after you're done. You can even share your recorded responses with anyone to get valuable feedback.
Check out My Interview Practice
The better way to practice interviewing.
Simulate realistic interviews for over 120 job different titles, with curated questions from real employers.
Learn More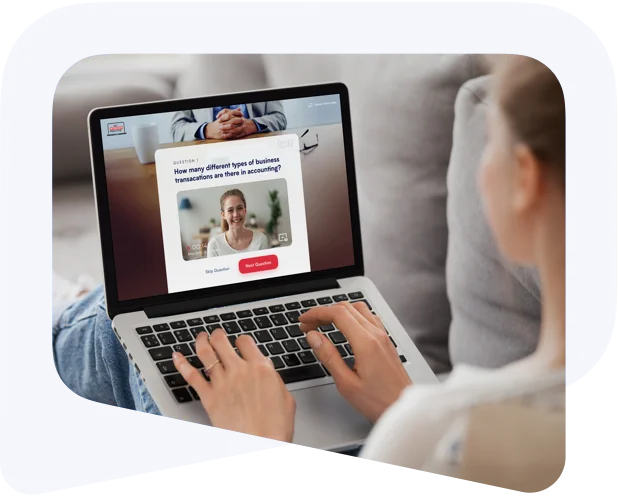 Get the free training guide.
See the most common questions in every category assessed by employers and be ready for anything.
Get the Guide