BACK
Nurse Practitioner Interview Questions
Position Summary
A nurse practitioner (commonly referred to as an NP) is a registered nurse who received advanced training and education to be qualified to consult, diagnose, and treat certain medical conditions. They operate similarly to a primary care provider and carry out many day-to-day activities that a doctor would.
Nurse practitioners are awarded extreme flexibility within the medical community due to their advanced training. They can choose to work with inpatient or outpatient facilities, independently, or as part of a treatment team. Additionally, they can choose to specialize in certain fields or work in a general field.
Responsibilities
Nurse practitioner responsibilities may include:
Providing general and preventative care
Conducting check-ups
Ordering lab tests
Prescribing medication
Diagnosing and treating illnesses
Keeping records of patient care
Skills
Nurse practitioners are highly educated nurses who serve as experts within their field. In order to best serve their patients, a skilled nurse practitioner will:
Possess excellent decision-making capabilities
Demonstrate leadership among patients and other medical staff
Possess attentive listening skills in order to better serve their patients
Work quickly and effectively in stressful situations
Have a keen eye for detail in order to best diagnose and treat patients
Qualifications
Nurse practitioners are highly skilled within their field, so candidates can expect to undergo extensive training. At a bare minimum, all nurse practitioners are required to obtain at least a master's degree in nursing at an accredited school where they may choose to specialize in a certain field.
In addition, all nurse practitioners must be licensed registered nurses (RN). This means they must pass the National Council Licensure Examination to become an RN. Afterwards, candidates must pass a certification the for nurse practitioner's examination in order to practice as a nurse practitioner.
If you're getting ready to interview for a position as a nurse practitioner, you can prepare by researching the company as much as possible. Learn about the 9 things you should research before an interview.
Salary
Salaries for nurse practitioners range between $101K and $136K with the median being $117K.
Factors impacting the salary you receive as a nurse practitioner include:
Degrees and Training (master's degree, specialized certifications)
Years of Experience
Location
Reporting Structure (seniority of the supervisor or doctor you report to, number of direct reports such as aides and other nurses)
Level of Performance - Exceeding Expectations
Interviews Are Unpredictable
Be ready for anything with the interview simulator.
Nurse Practitioner Interview Questions
Question: What influenced your decision to become a nurse practitioner?
Explanation: This is a general or opening question that an interviewer will use to start the conversation and get you talking. It also enables them to learn more about your background and collect information they may use for future questions.
Example: "While I was growing up, I had several different health issues, and this exposed me to a wide variety of health care providers. I became interested in the medical field and knew early on that this profession was for me. I also have a strong interest in biology, science, and math. Finally, I have a strong belief in helping people and contributing to my community."
---
Question: Can you share with me some of the highlights of your previous nursing experience?
Explanation: This is another general question which the interviewer is using to learn more about your background. As a nurse practitioner, you are required to have previous healthcare experience. You can discuss this, summarizing the highlights of your career to date.
Example: "I have been fortunate to have had a broad range of experiences as a nurse. After graduating from college, I spent three years as a traveling nurse. In this role, I worked in a variety of different settings, practices, and healthcare facilities. This exposed me to many different situations as well as challenges, all of which helped me develop the skills and experience I need for this role."
---
Question: Why did you choose this specialty, and what do you like about it?
Explanation: An interviewer will ask this question to confirm you are motivated to perform the job for which you are interviewing. They are probably also genuinely interested in why you chose this specialty and what experiences contributed to your choice.
Example: "In my role as a travel nurse, I worked in a variety of different specialties. Urgent care was the one I found most rewarding. The challenges this specialty presents, such as thinking on your feet, reacting quickly, and being decisive, were exhilarating. Also, seeing patients transition from an emergency to stabilization and getting on a path to recovery was very rewarding. I can't think of anything I would rather do than be an urgent care nurse practitioner."
---
Question: What are the most challenging aspects of your job as a nurse practitioner?
Explanation: When an interviewer asks this type of question, they're hoping to learn several things. The first is what you find challenging. However, they also want to make sure you are honest and willing to overcome challenges. While you should remain upbeat and positive when answering this question, don't try to mask the fact that some aspects of this job challenge you.
Example: "As a nurse practitioner, I face challenges everyday. Some of these are routine such as the long hours, fast pace, and challenges individual patients present. Other challenges are more system-related, including the lack of resources and the constant need to do more with less. I accept these as part of the job and work hard to overcome any challenge I encounter. Despite the challenges, I find this work extremely rewarding."
---
Question: What do you do to ensure a patient has an exceptional care experience?
Explanation: The patient experience is one of the most important aspects of being a healthcare professional. In addition to positive patient outcomes, the experience a patient has is one of the critical metrics hospitals use when evaluating the level of care they are providing. Your ability to contribute to the patient experience is critical to the position. You should be able to describe several steps you take to accomplish this.
Example: "Next to ensuring positive patient outcomes, the experience the patient has is one of my highest priorities. Naturally, I focus on patient care and addressing their medical needs. While doing this, I take care to communicate frequently with the patient, making sure they are comfortable and understand the care we are providing them. I also address their nonmedical needs such as physical comfort and keeping their family informed about their status."
---
Question: How do you react and what actions do you take when a patient requests antibiotics or other medications which you feel are unnecessary?
Explanation: By asking this question, the interviewer is hoping to learn about the criteria you use for prescribing medications, your approach to educating patients, and how you handle conflict. Your answer should reflect a conservative approach to using medications, how you educate patients and answer their questions, and your ability to deal with demanding or needy patients.
Example: "It is common for patients to self-diagnose and request antibiotics and other medications. Naturally, I rely on my diagnosis and will only prescribe antibiotics if it is appropriate and will address the patient's medical needs. I take time to educate my patients about the use of any prescription medication, its benefits, and its side effects. If the patient is persistent, I gently but firmly stand my ground and focus on convincing them that my approach is the appropriate one."
---
Question: Have you ever witnessed unethical behavior, and if so, what was your reaction?
Explanation: Unfortunately, unethical behavior is typical in healthcare practices. The interviewer expects you to acknowledge this and describe what you do to minimize it. If you have experience witnessing unethical behavior and responding to it in a positive manner, you can describe this. If not, create a scenario and describe what you would do if you encountered this type of behavior.
Example: "As you probably know, healthcare professionals are people and sometimes make bad choices. Fortunately, I've never encountered this in my career. However, if I did, I would confront the professional and ask them to revise their behavior or correct the situation. If they were unresponsive, I would then report the situation to the appropriate authority on the medical staff. I would also follow up with them to make sure corrective actions had been taken."
---
Question: What protocols do you follow if a patient is not responding positively to pain medications?
Explanation: Pain is one of the more challenging aspects a medical professional encounters. This is because it is subjective, and the professional depends on the patient to report the levels of pain they are experiencing. Medical professionals must walk a fine line between managing pain and over-medicating the patient. You should be able to describe what protocols you use to accomplish this.
Example: "Managing pain is one of the more challenging aspects of my job. This is because you must rely on the patient's opinion of what they are experiencing and the fact that every patient has a different tolerance for pain. Based on my training and experience, I can usually determine what a patient's tolerance for pain is and what I need to do to manage the pain they are experiencing. I also look for nonmedical remedies such as hydration, physical comfort, and reassuring language."
---
Question: Have you ever gone above and beyond to provide exceptional patient care?
Explanation: This is somewhat of a rhetorical question. Virtually every healthcare professional will go above and beyond the job description to provide exceptional patient care. It is the nature of their profession. What the interviewer is looking for in your answer is a specific experience in which you accomplished this.
Example: "I always do my best when caring for my patients. I recall a situation in my last role where we had addressed the patient's medical issues, but they were still struggling emotionally. After my shift was over, I returned to the patient's room and sat with them for several hours, providing emotional support, answering their questions, and doing what I could to reassure them. They and their family expressed gratitude for my efforts. This was one of the most rewarding experiences I've had as a healthcare professional."
---
Question: What would you do if a parent complained about the healthcare a child was receiving in our hospital?
Explanation: Complaints from patients and their families are common in healthcare settings. This is because these environments are unfamiliar to them, they are anxious about the care you are providing, and they feel helpless. Your ability to address these concerns in a compassionate but effective manner is critical. You should briefly describe the steps you take when you encounter this type of situation.
Example: "I completely understand when a parent complains about the care their child is receiving. Being in the hospital is a scary situation, and parents feel helpless because they can't immediately make things better. Knowing this, I take time to reassure the parents that their child is receiving the best care possible. I provide them with an accurate assessment of the child's conditions and the prognosis for their recovery. I also make myself available to answer any questions they may have and provide a kind word, letting them know we care very much for both them and their child."
---
Additional Nurse Practitioner Interview Questions
How would you handle a disagreement with a physician?

How do you deal with a difficult patient?

What makes you a good nurse practitioner?

What are some problems you've encountered as a nurse practitioner?

As a nurse practitioner, you will be responsible for other medical staff on your shifts. How have your past leadership roles prepared you for this position?

How do you keep up to date with current medical procedures?
A word of warning when using question lists.
Question lists offer a convenient way to start practicing for your interview. Unfortunately, they do little to recreate actual interview pressure. In a real interview you'll never know what's coming, and that's what makes interviews so stressful.
Go beyond question lists using interview simulators.
With interview simulators, you can take realistic mock interviews on your own, from anywhere.
My Interview Practice offers a simulator that generates unique questions each time you practice, so you'll never see what's coming. There are questions for over 120 job titles, and each question is curated by actual industry professionals. You can take as many interviews as you need to, in order to build confidence.
List of
Questions
In-Person
Mock Interview
My Interview
Practice Simulator

Questions Unknown Like Real Interviews

Curated Questions Chosen Just for You

No Research Required

Share Your Practice Interview

Do It Yourself

Go At Your Own Pace

Approachable
The My Interview Practice simulator uses video to record your interview, so you feel pressure while practicing, and can see exactly how you came across after you're done. You can even share your recorded responses with anyone to get valuable feedback.
Check out My Interview Practice
Positions you may be interested in
The better way to practice interviewing.
Simulate realistic interviews for over 120 job different titles, with curated questions from real employers.
Learn More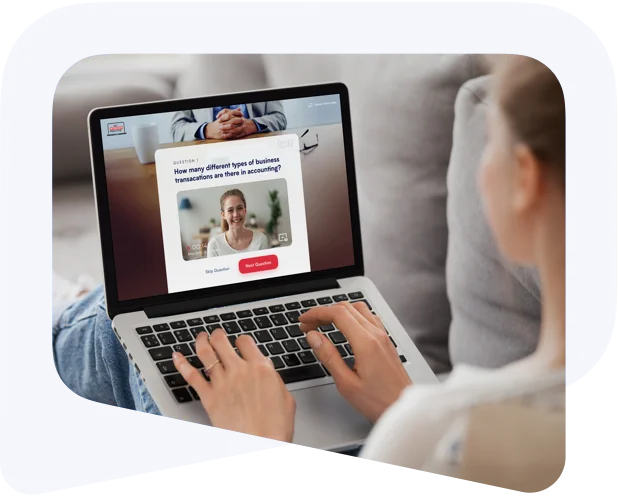 Get the free training guide.
See the most common questions in every category assessed by employers and be ready for anything.
Get the Guide