BACK
Physical Therapist Interview Questions
Position Summary
A physical therapist (commonly referred to as a PT) helps patients with physical injuries regain range of movement. They also provide long-term relief for those struggling with disabling conditions such as lower back pain or arthritis.
Physical therapists are very hands on with their patients. Typically, they will work one on one with their patients for months or even years at a time. Physical therapists evaluate their patients and then use their expertise to create a plan tailored specially for the patient and their specific needs. As such, it is important for physical therapists to provide a pleasant experience for clients as well as paying attention to their verbal and nonverbal behavior.
Responsibilities
Physical therapist responsibilities may include:
Measuring patient abilities such as strength, endurance, and range of motion
Creating treatment plans to provide pain relief and regain range of movement
Providing exercises and stretches for the patient to do at home
Discussing diagnoses and treatment plans with patients and family members
Providing emotional support and motivation to patients
Supervising and giving directives to physical therapy assistants
Skills
Physical injuries can be devastating and severely impact quality of life. In order to provide patients with long-term relief, a skilled physical therapist will:
Possess strong interpersonal skills in order to provide a pleasant experience and motivate patients
Demonstrate empathy when working with patients
Practice active listening skills in order to identify pain points with the patient
Possess a keen eye for detail in order to observe nonverbal behaviors that will help with diagnosis and treatment
Demonstrate a solid work ethic in order to provide quality healthcare to patients
Possess dexterity and physical stamina in order to participate in patient exercise
Qualifications
In order to practice as a physical therapist, a doctor of physical therapy degree is required. In addition, candidates will need to pass the National Physical Therapy Examination. Certain states will also require physical therapists pass both a law exam and a criminal background check.
For physical therapists seeking an advanced education, they may complete a clinical residency program to gain additional training in specialized forms of care. For those who have completed a clinical residency, there is an option to complete a fellowship in an advanced clinical area.
If you're getting ready to interview for a position as a physical therapist, you can prepare by researching the company as much as possible. Learn about the 9 things you should research before an interview.
Salary
Salaries for physical therapists range between $73K and $101K with the median being $86K.
Factors impacting the salary you receive as a physical therapist include:
Degrees and Training (doctorate degree in physical therapy (DPT), specialized certifications)
Years of Experience
Location
Reporting Structure (seniority of the supervisor you report to, number of direct reports such as aides and other therapists)
Level of Performance - exceeding expectations
Interviews Are Unpredictable
Be ready for anything with the interview simulator.
Physical Therapist Interview Questions
Question: Why did you decide to pursue a career as a physical therapist?
Explanation: This is an opening or general question the interviewer will ask early in the interview. The purpose of this question is to get you talking, learn a little bit about you, and provide information the interviewer can use to ask additional questions.
Example: 'When I was young, I always participated in youth sports. At one point, I was injured and had to undergo physical therapy treatment. I got to know my therapist, and we talked a lot about their job. The more I learned about physical therapy, the more I became interested in it. When it came time to pick a career, I was very clear about what I wanted to do. This job enables me to help people and stay close to the sports industry."
---
Question: How do you approach developing treatment plans for new patients?
Explanation: This is an operational question which the interviewer will ask to better understand the techniques you are comfortable with as well as how you view treatment in general. It will also help them understand how you interact with patients and if your approach will fit with their facility. Also, you may bring a new approach that can be beneficial for their current staff.
Example: "When I first meet with a new patient, I have already read their doctor's prescription and reviewed their medical file. I interview them to understand what symptoms they are experiencing, their lifestyle, and what their objectives are for the treatment regimen. I then design a treatment plan which incorporates their goals and will return them to a state where they can easily participate in their normal activities as well as play any sports they enjoy. I am careful to set realistic expectations about what the outcome can be and the amount of time and effort it will take to get there."
---
Question: Tell me about a time a patient was struggling with the treatment plan you created for them and how you handled the situation.
Explanation: This is a behavioral question. The interviewer is asking how you will respond to a specific situation that is likely to occur in this job. The best way to respond to behavioral questions is to use the STAR framework. This involves restating the Situation, describing the Task you needed to accomplish, discussing the Actions you took, and reviewing the Results.
Example: "Unfortunately, no matter how hard I strive to develop a good treatment plan, patients sometimes struggle. When I recognize this, I react quickly to get them back on track. The first thing I do is try to understand why they are struggling. Once I determine this, I either encourage them to work harder to achieve the plan's objectives, or I modify the plan to make it easier for them to execute the therapies I have prescribed for them. This usually results in them being able to attain the goals we originally identified and complete the therapy regimen."
---
Question: How do you measure the success of a therapy plan when working with a patient?
Explanation: This is another operational question which the interviewer will ask to understand a process you use in your job or a specific task. Operational questions are best answered straightforwardly and without any embellishment. The interviewer will ask a follow-up question if they need additional details.
Example: "Measuring the success of a therapy plan involves determining how close we came to achieving the initial objectives we established for the patient. Any plan that meets or exceeds these objectives is successful. Any plan that doesn't meet the objectives needs to be evaluated to determine if the objectives or appropriate, if the plan was executed properly, or if we should have reduced the objectives to match the patient's capabilities."
---
Question: What is an area you feel you would benefit from additional education or training?
Explanation: No matter how experienced a physical therapist is, they can always improve their skills or knowledge. The interviewer will ask this type of question to confirm that you are aware of this and to learn about your continuing education and development plan. As a PT professional, you should always have a plan in place to improve your skills.
Example: "As a physical therapist, I am required to maintain my certifications and skills through regular training and education. Even if I weren't required to do this, I still would. I recognize I can always improve my skills and knowledge, and I work hard to do this. In addition to recurring training, I subscribe to several PT-related journals, attend additional training clinics, and network with other physical therapy professionals to learn how they approach their practice."
---
Question: Can you tell me about one of the more interesting or challenging patients you've worked with?
Explanation: An interviewer will ask this general question to understand the scope of your work and to see if you have experience related to the type of therapy they offer. This is a very common question, and when asked, you should be able to answer easily. Be prepared to answer with a brief history of your experience.
Example: "Probably the most interesting patient I've worked with was a professional race car driver. While most people don't think of racing as a physical sport, it truly is. The driver was having issues with their legs and feet due to the amount of strain they experience during a race as well as the heat to which their lower body is exposed. I designed a therapy program that strengthened their lower extremities while also increasing blood flow to this region. After therapy, the driver's record of wins and losses improved significantly."
---
Question: How do you motivate the patients you work with, especially when the therapy involves strenuous or challenging exercises?
Explanation: This is another operational question in which the interviewer is seeking to better understand how you execute this critical part of a physical therapist's job. You should be able to answer this question easily by simply referring to the motivational techniques you use in your practice.
Example: "Motivating my patients to complete the exercises I prescribed for them is one of the most important things I do in my job. The motivational techniques I use depends on the patient's personality and my perception of what they will respond to. Techniques include encouragement, challenging them, providing rewards, and sometimes gentle teasing."
---
Question: How do you set reasonable expectations for the patient's treatment outcomes and provide status updates to patients and their family members?
Explanation: This is yet another operational question. As a physical therapist, you can expect that most of the interview will involve operational or technical questions. Since you are required to be certified to do this job, the interviewer will assume you have the appropriate training and experience. What they are now trying to determine is whether your practices align with those of the organization with which you are interviewing.
Example: "As we discussed earlier, the success of a physical therapy program hinges on setting the proper expectations for how far the patient can progress and then designing a program to get them there. I would rather set very conservative expectations and exceed them than establish aggressive goals and fail to achieve them. After each therapy session, I provide a brief written report of the patient's progress, a preview of the next therapy session, any homework I have assigned them, and pictures (if appropriate). I am always available to both the patient and their family to answer any questions or discuss the patient's progress."
---
Question: What are some of the ways you've found to be effective in tracking a patient's progress?
Explanation: This is a follow-up to the previous question. Since you already described how you update the patient and their family, the interviewer is now asking how you actually track their progress. During an interview, you should anticipate follow-up questions to any answers you provide.
Example: "There are several different ways I track the progress of a patient. The first is to use the traditional method of paper charting. I record the exercises we perform during the session and add a few notes of my evaluation of the patient's status. After the session, I enter this into an online tracking tool which I, the patient's physician, and the patient can access. Again, I include pictures of the patient if relevant to their situation."
---
Question: Why do you think you will be a good fit to work here?
Explanation: This is a general question that will be asked near the end of the interview. The interviewer will ask this to get your opinion of how you would fit into their organization. At some level, the entire interview has been an attempt to answer this question. You can use the information discussed during the interview to answer this by providing a summary of your qualifications and how they match the requirements for the job and the nature of the organization.
Example: "Based on the research I did before coming here today and the information you shared with me, I think I would be a great fit for this organization. My skills and experience align well with the type of services you provide. I've treated patients similar to the ones which you service, and I am familiar with the techniques and the equipment you use. Having met you and some of the other staff, I think I would fit right in and quickly assimilate into the organization."
---
Additional Physical Therapist Interview Questions
What led you to pursue a career in physical therapy?

How would you handle a patient who is refusing treatment?

What are some of the challenges of working with geriatric patients?

How do you handle movement disorders?

What is the best way to motivate patients to stick to their treatment plans?
A word of warning when using question lists.
Question lists offer a convenient way to start practicing for your interview. Unfortunately, they do little to recreate actual interview pressure. In a real interview you'll never know what's coming, and that's what makes interviews so stressful.
Go beyond question lists using interview simulators.
With interview simulators, you can take realistic mock interviews on your own, from anywhere.
My Interview Practice offers a simulator that generates unique questions each time you practice, so you'll never see what's coming. There are questions for over 120 job titles, and each question is curated by actual industry professionals. You can take as many interviews as you need to, in order to build confidence.
List of
Questions
In-Person
Mock Interview
My Interview
Practice Simulator

Questions Unknown Like Real Interviews

Curated Questions Chosen Just for You

No Research Required

Share Your Practice Interview

Do It Yourself

Go At Your Own Pace

Approachable
The My Interview Practice simulator uses video to record your interview, so you feel pressure while practicing, and can see exactly how you came across after you're done. You can even share your recorded responses with anyone to get valuable feedback.
Check out My Interview Practice
Positions you may be interested in
The better way to practice interviewing.
Simulate realistic interviews for over 120 job different titles, with curated questions from real employers.
Learn More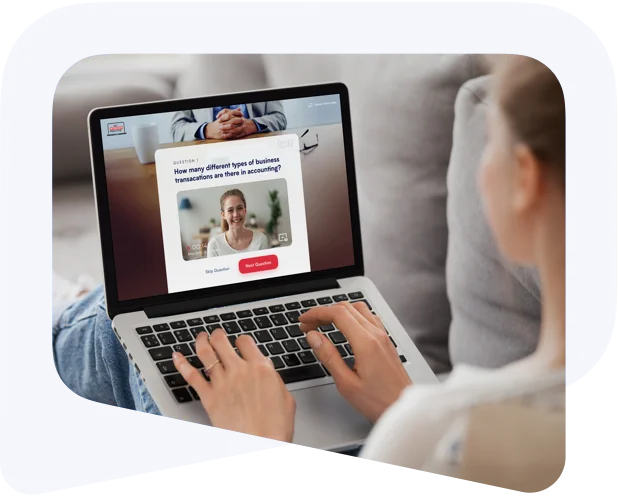 Get the free training guide.
See the most common questions in every category assessed by employers and be ready for anything.
Get the Guide