BACK
Event Coordinator Interview Questions
Position Summary
Event coordinators, also known as event planners, are responsible for every aspect of an event or function and ensure each part is adequately planned and feasible. They also calculate a budget for the costs of each aspect of an event.
Event coordinators are responsible for arranging venue rental for events and gaining client approval for the chosen venue. They can work in several capacities, including through a larger firm or as a freelancer.
Responsibilities
An event coordinator's responsibilities include:
Organizing both private and public functions
Arranging catering orders
Securing venues for specific events
Managing budgets and proper invoicing
Liaising between the client and service providers
Managing the promotion of events
Skills
An event coordinator's skills include:
The ability to maintain several events at once
Budgeting skills to stay within the client's financial guidelines
Marketing and promotional skills
Social media literacy for event promotion
Basic IT skills for budgeting and scheduling
Qualifications
Several years of experience in the field is preferred when applying for a larger company, and a bachelor's degree in public relations or hospitality is often required. Good communication skills are a definite requirement for any event coordinator position. Extensive knowledge of vendors and venues in the area one is applying to will also make the applicant more competitive for employment.
Salary
Salaries for event coordinators range between $97K and $126K with the median being $167K.
Factors impacting the salary you receive as an event coordinator include:
Degrees (high school, associate's, bachelor's)
Location
Size and Type of the Events You Organize
Reporting Structure (seniority of the manager or supervisor you report to, direct reports,and the size and type of the organization)
Level of Performance - exceeding expectations, industry recognition, etc.
Interviews Are Unpredictable
Be ready for anything with the interview simulator.
Event Coordinator Interview Questions
Question: What types of events do you prefer to work on or find exciting to plan?
Explanation: This is an opening question which the interviewer will ask early in the interview to start the conversation, learn more about you, and collect information they can use throughout the interview. This is your opportunity to provide an answer that will guide the interview in the direction you'd like it to go.
Example: "While I enjoy planning a wide range of different events, my favorites are internal company events, where employees are recognized, achievements are celebrated, and everybody has a chance to interact with each other on a more casual basis. I enjoy working with company management to organize the event and seeing the delight the employees experience if I've done a good job."
---
Question: Can you describe the personality traits, talents, and experience event planners should have?
Explanation: This is another general question in which the interviewer is trying to learn more about your background. The assumption is that you'll answer this question by describing the traits, talents, and experience you have. It also provides you the opportunity to discuss your aspirations and how you plan to further develop your skills in this role.
Example: "I believe successful event coordinators must have a great imagination, flexibility, excellent collaboration skills, good communication skills, and the ability to understand the client's needs. The best event coordinators I've worked with can take a client's idea, expand on it, and make it a reality. They also develop long-lasting relationships with vendors, site managers, and other event stakeholders."
---
Question: How do you prepare for a kickoff meeting with event stakeholders?
Explanation: This is an operational question. Interviewers ask this type of question to discover how you go about doing your job or performing in this role. Operational questions should be answered briefly and directly. Interviewers will ask follow-up questions if they need additional information or want to explore the topic further.
Example: "When a client engages me for an event, the first thing I do before meeting with them is research the organization and find out as much about it as I can. I also try to determine if they've had any previous events and the details of those. If they provided me some initial information before the kickoff meeting, I would contact my vendors and the site manager to collect some information I can use to discuss the event in detail and set the right expectations with the client. The final thing I do is make sure all of the client stakeholders are at the meeting so there are no surprises as the event planning and execution move forward."
---
Question: What do you do to stay prepared and organized for your next event?
Explanation: Preparation and being organized are key skills hiring managers look for in event coordinators. You may receive a request for a new event on short notice, and you need to be able to execute it in a timely and organized fashion while staying within budget.
Example: "I always try to be prepared for the next event. I do this by managing my schedule, keeping a portfolio of ideas and resources, staying in touch with my suppliers and vendors, and reading about different event ideas, venues, and resources. I once put together an event in less than five days because of being prepared and having the resources at hand."
---
Question: How do you manage a nervous client who is concerned about their event going smoothly?
Explanation: Events can be extremely complicated projects, and clients expect them to be executed on time, under budget, and to their expectations. Even when the event planning is going smoothly, clients tend to get nervous and ask a lot of questions. You should be prepared for this and have a solution for how you go about managing the client's expectations and delivering the results they hired you for.
Example: "Dealing with nervous clients is part of this job. Even when things are going smoothly, clients will get nervous and sometimes doubt my ability to execute an event according to their expectations. I've found the best way to deal with this is to communicate with them often with transparency. If something goes wrong, I notify them immediately and make recommendations as to how we can fix it. Even when things are going right, I update them so they are aware of our progress and know the event is likely to be a success."
---
Question: What general steps do you take when something at your event doesn't go according to plan?
Explanation: This is a follow-up to the previous question. Interviewers are likely to ask follow-up questions after you provide them an answer. You should anticipate this and be ready to expand on the topic you are discussing.
Example: "When events get off track and are not progressing according to the established schedule, the first thing I do is look at the cause of the problem. I then have conversations with the client, my vendors, the site managers, and all the other stakeholders who may be able to fix the issue and get the event back on schedule. The worst thing you can do is try to hide the problem. Experience has taught me that this further complicates the issue and causes resentment among the people you're working with."
---
Question: In your opinion, what contributes to the success of an event, and how do you measure how successful an event was?
Explanation: This may look like a general question, but it is actually an operational one. What the interviewer is trying to ascertain is what steps you take to make an event successful. It would be best if you answered this question by describing the general process you use to execute a successful event.
Example: "Successful events begin with the very first client meeting. This is when expectations are set, and you have the opportunity to understand exactly what the client would like the event to be like. It also provides you the opportunity to discover if there are any other contingencies or issues that may impact the success of the event. Another contributing factor is how detailed your plan is. By paying attention to the details, you address the bigger issues, and the event is more likely to be successful. I can determine if an event was successful based on the client's feedback and them responding positively to my request that they refer me to their colleagues for future events."
---
Question: Can you describe the most successful event you planned?
Explanation: This is yet another follow-up question. By keeping your answers brief and to the point, you provide the interviewer the opportunity to ask follow-up questions. This also helps you gauge their interest in a specific topic. If the interviewer asks multiple follow-up questions, you can assume the topic is important to them and the organization, and you should expand your answers to demonstrate your knowledge and qualifications in this area.
Example: "One of the most successful events I planned was a national sales meeting for a technology company. I was given a great deal of notice, a rather generous budget, and the client had very clear and precise expectations. I worked with some top vendors as well as a site manager who knew what they were doing and provided suggestions about how to improve the event. The outcome was exactly what the client was looking for, and they committed to the following year's event within days after my having executed this one."
---
Question: What would you do if you noticed an event you were working on was going over budget?
Explanation: Even though clients want spectacular and successful events, they also have budgets and expect you not to exceed them. By asking this question, the interviewer is trying to determine your ability to manage a budget as well as what you would do if you notice an event was exceeding the client's budget.
Example: "While clients are concerned about the outcome of the event, they also usually have specific budgets and become upset if I exceed their budget. The first step in budgeting is to set proper expectations and make sure the client's expectations for the event align with their budget and the dollars they are willing to spend. Once this is established, I carefully track all expenses. If I notice a trend which indicates we may exceed the budget, I meet with the client to see if they are willing to compromise on some of the event details or provide additional funds to execute the event per the original plan."
---
Question: What criteria do you evaluate when choosing an event venue?
Explanation: One of the key elements of any event is the venue. By asking this operational question, the interviewer is trying to determine what criteria you use to select or suggest an event venue and your experience in this area. Try not to be too specific when answering this question. The interviewer is looking for more of a general overview of your process or venue selection.
Example: "When selecting or suggesting an event venue, I first ask if the client has any preconceived notion of where they'd like the event to be held. If not, I then make several suggestions based on my experience with events similar to theirs and my knowledge of the specific venues. If the event is being held at a site I'm not familiar with, I contact the site manager and collect as much information as I can about the venue, including the size, services provided, resources available, the layout, and other factors which will impact the success of the event."
---
Additional Event Coordinator Interview Questions
Describe the largest function you have organized.

When planning an event in an unfamiliar area, how do you go about finding reputable vendors and services?

What budgeting methods or software do you typically use?

How flexible are you with last-minute changes?

How do you ensure your client stays informed during the planning process?

How many events can you manage at one time?

How do you market yourself to potential clients? What promotional methods do you use?

How do you prioritize and manage your time?

How do you manage relationships with vendors and venues?

How do you utilize social media for promoting of events?
A word of warning when using question lists.
Question lists offer a convenient way to start practicing for your interview. Unfortunately, they do little to recreate actual interview pressure. In a real interview you'll never know what's coming, and that's what makes interviews so stressful.
Go beyond question lists using interview simulators.
With interview simulators, you can take realistic mock interviews on your own, from anywhere.
My Interview Practice offers a simulator that generates unique questions each time you practice, so you'll never see what's coming. There are questions for over 120 job titles, and each question is curated by actual industry professionals. You can take as many interviews as you need to, in order to build confidence.
List of
Questions
In-Person
Mock Interview
My Interview
Practice Simulator

Questions Unknown Like Real Interviews

Curated Questions Chosen Just for You

No Research Required

Share Your Practice Interview

Do It Yourself

Go At Your Own Pace

Approachable
The My Interview Practice simulator uses video to record your interview, so you feel pressure while practicing, and can see exactly how you came across after you're done. You can even share your recorded responses with anyone to get valuable feedback.
Check out My Interview Practice
The better way to practice interviewing.
Simulate realistic interviews for over 120 job different titles, with curated questions from real employers.
Learn More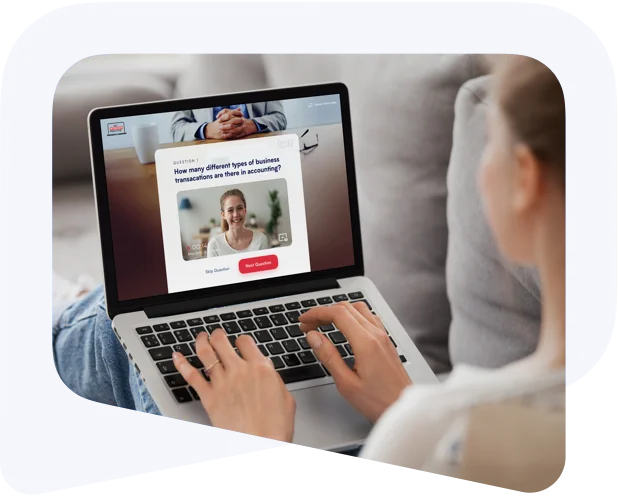 Get the free training guide.
See the most common questions in every category assessed by employers and be ready for anything.
Get the Guide