BACK
Insurance Agent Interview Questions
Insurance agents sell multiple types of insurance which may include health or life insurance. A position as an insurance agent can be quite flexible with some insurance agents acting as a referral for brokers, some acting as independent brokers, and some working under the employment of an insurance company.
Insurance agents are the point of contact between the customer and the business and should be experts regarding the products and services offered by the business. They will need to attend meetings, programs, or seminars to learn about new services or products being offered by the company and be up to date on industry trends.
Responsibilities
Insurance agent responsibilities may include:
Calculating premiums
Ensuring policy requirements are met
Handling policy renewals
Selecting appropriate underwriters
Communicating plan benefits to customers
Skills
Customers will only do business with a company they trust. In order to encourage trust between the insurance company and the customer, a skilled insurance agent will:
Prioritize tasks to stay on top of their workload
Possess organizational skills to access files as needed
Provide a pleasant experience for their clients
Utilize critical thinking to provide clients with plans that meet their needs
Seek out new clients proactively
Qualifications
To gain an entry-level position, candidates will need a high school diploma or equivalent as well as a state insurance license. Candidates with bachelor's or graduate degrees relevant to the industry may find this helpful when applying for a job.
In addition, insurance agents can earn a variety of professional designations relevant to their industry. To earn a professional designation, candidates will need to pass a series of courses as well as a standardized exam.
If you're getting ready to interview for a position as an insurance agent, you can prepare by researching the company as much as possible. Learn about the 9 things you should research before an interview.
Salary
Salaries for insurance agents range between $45K and $68K with the median being $65K.
Factors impacting the salary you receive as an insurance agent include:
Degrees (associate's, bachelor's)
Years of Experience
Location
Reporting Structure (seniority of the manager you report to, number of direct reports and office staff)
Level of Performance - exceeding expectations
Interviews Are Unpredictable
Be ready for anything with the interview simulator.
Insurance Agent Interview Questions
Question: What are some of your qualities that make you a good insurance agent?
Explanation: This is an example of a general or opening question. It is meant to get you talking, find out a little bit about you, and provide the interviewer with some information they can use to ask you additional questions. This presents you an opportunity to steer the interview into an area in which you are comfortable.
Example: "The key attributes that qualify me for the role of an insurance agent are my interpersonal communication skills and my ability to analyze both the client and their assets. This enables me to put together a policy recommendation for the client and communicate it to them so they understand why I am recommending a specific type of coverage. I also have refined sales skills that help me manage the selling process from introduction through closing."
---
Question: The insurance business is highly competitive. How do you differentiate yourself from other agents?
Explanation: This appears to be a general question, but it is actually an operational question. The interviewer will ask you this type of question to understand how you manage your practice to meet your sales objectives and compete against online insurance firms. A good response to this question would include some best practices you implement in your job as an insurance agent.
Example: "As a practicing agent, I have to compete against other agents as well as brokers and online insurance firms. This really comes down to developing an in-depth knowledge of the business and actively working with clients to look after their best interests. Having strong relationships with clients and a visible presence in the community helps me develop a broad client base which I can then work to maximize revenues."
---
Question: As you are aware, you have to make a high number of presentations in order to close a sale. How well do you handle rejection, and do you let it impact your business?
Explanation: This falls into the category of behavioral questions. Interviewers will present you with a scenario and then ask how you would handle it or react to it to gauge your behavior in a specific situation. Behavioral questions are best answered using the STAR framework. This involves describing the Situation, identifying the Task you needed to accomplish, discussing the Actions you took, and highlighting the Results.
Example: "Unfortunately, rejection is part of the job of an insurance agent. You have to go through a lot of noes to get to a yes. I've accepted this and don't take it personally. I understand the client is rejecting the business proposition, not me. I try to learn something from each lost sales so I can improve my technique and my closing ratio. By doing this, each rejection becomes a lesson that is easier to deal with."
---
Question: Can you describe your most successful sale of an insurance policy?
Explanation: This is another behavioral question in which the interviewer is not so much interested in the sale but why you believe it was successful and how you achieved it. Keep this in mind when composing your answer and pick a sale which was either difficult to close or took some extraordinary skills to achieve.
Example: "The sale which I am most proud of was not my biggest contract but rather one which required a great deal of skill and perseverance to win. It started when a client came to me with a request for a policy covering their home and vehicle. They had a very competitive quote from one of my biggest competitors. I knew I couldn't match the price, so I had to demonstrate to the client that the service I would provide them was superior to what my competitor could do. I lined up a lunch with several of my current clients and the prospect. The clients sang my praises and convinced the prospect they wouldn't get the services I provide anywhere else. I won the initial sale which led to additional policies for other properties and vehicles the new client owned. He then referred me to several other new clients, expanding the amount of business I won because of this sale."
---
Question: What other kinds of strategy do you use to gain clients' attention?
Explanation: This is a follow-up to the previous question. Any time you answer a question, you should anticipate that the interviewer will ask a follow-up question. The purpose of this is to gain more information and dig deeper into the topic about which they are asking.
Example: "There are many different things I do to gain a client's attention so I can pitch my products. Central to all these methods is demonstrating the value I provide and differentiating myself from other insurance agents. I like to take a personal approach such as helping at community events, coaching youth sports teams, asking current clients for referrals, and being active in local organizations."
---
Question: Many people who shop for insurance often don't purchase what an insurance agent is selling the first time around. How might you persuade them not to shop elsewhere and accept what you are selling?
Explanation: This is an operational question in which the interviewer is seeking to understand how you go about selling to reluctant clients or people who like to shop around. As an experienced agent, you should be able to address this by describing the practices you employ. Again, focus on the results your actions produce.
Example: "When people are shopping for insurance, they usually like to get several quotes before they make a decision. I encounter this frequently in my practice. To overcome buyer reluctance, I focus on value, service, and relationships. While price is important, I try to take it off the table. I monitor my competitors' rates, and I can present these to the client to demonstrate that while I may not be the least expensive option, the service I provide outweighs the money they will save, especially after an incident occurs."
---
Question: Many clients meet with us to get clarification on specific aspects of their policies. How do you help them understand the more complex points of an insurance policy?
Explanation: Insurance plans can sometimes be very technical, leading to confusion on the client's part. They want an agent who can explain concepts in plain language so they feel comfortable working with your company. The interviewer is seeking to understand how you overcome this and gain an idea about your communication style. You can mimic the language you use when explaining difficult insurance concepts to a client as you answer this question.
Example: "Insurance can be a very confusing topic and difficult for people to understand. I make sure that when I'm describing a policy to a client, I speak in very clear terms and language that is easy to understand. I avoid industry terminology, acronyms, or any other language with which the client is not familiar. I actively listen to them and address any questions they have. Finally, I confirm they understand what I told them and correct any misunderstandings they may have."
---
Question: You have made it clear that you emphasize value in service when pitching a policy to a client. However, sometimes you may have to bargain with some buyers. How do you negotiate the price or terms of an insurance policy?
Explanation: This is one of the more difficult behavioral questions you may encounter. Many insurance salespeople prefer to sell based on price only. Selling value is more challenging and requires additional skills. You need to convince the interviewer that you possess these skills by giving them a description of how you would negotiate an insurance policy. If you can, provide an example of when you were successful in doing this.
Example: "I took a course on negotiation and sales tactics before I got into the insurance business. This taught me to look for other items that are important to the buyer and can be used to mitigate the significance of price. As an example, I had a very difficult client who was pressuring me to reduce the cost of their policy. I knew the underwriter would not allow me to do this. Rather than reduce the price, I agreed to provide the client with my personal phone number so they could reach me outside of office hours. This made them feel special and was not something other agents had offered them. They agreed to the higher price because they felt they were getting a unique service."
---
Question: What techniques do you use for self promotion and advertising?
Explanation: By now, you should recognize this as an operational question. The interviewer is seeking to understand how you promote yourself and your business to prospective clients. Since you have either been trained to do this or have done it in the past, you should be able to answer this question easily. Avoid trying to provide too many details. The interviewer will follow up if they need more information.
Example: "There are several marketing and advertising techniques I use to promote myself and my business. These include direct mail, premium giveaway items such as notepads and golf balls with my contact information on them, sponsoring local sports teams, and participating in local events. One unique and effective method I've discovered is organizing a charity walk in which proceeds are donated to a local community initiative."
---
Question: A key selling technique is asking the right questions to discover the needs of clients. How do you do this?
Explanation: This is another operational question meant to help the interviewer understand your selling skills and techniques. Selling skills is the key competency a successful insurance agent needs to possess. Knowledge of the insurance industry is important, but the ability to work with people and walk them through the selling process is the differentiator. You should be able to describe question-based selling to the interviewer and provide them with an example if necessary.
Example: "Selling is simply the process of discovering a buyer's needs and then positioning your products or services to meet those needs. I spend most of my time with clients asking questions and learning as much as I can about them, their family, their property and other facts relevant to the purchase of an insurance policy. I then describe the products and services I offer, demonstrating how they address the needs the client has already expressed to me."
---
Additional Insurance Agent Interview Questions
Would you be comfortable visiting people at their homes and discussing insurance policies?

Who are the parties involved in a life insurance contract?

What criteria do you use to determine whether or not you should accept an applicant?

What does a deductible do?

In your opinion, what traits make a good insurance agent? Do you possess those traits?
A word of warning when using question lists.
Question lists offer a convenient way to start practicing for your interview. Unfortunately, they do little to recreate actual interview pressure. In a real interview you'll never know what's coming, and that's what makes interviews so stressful.
Go beyond question lists using interview simulators.
With interview simulators, you can take realistic mock interviews on your own, from anywhere.
My Interview Practice offers a simulator that generates unique questions each time you practice, so you'll never see what's coming. There are questions for over 120 job titles, and each question is curated by actual industry professionals. You can take as many interviews as you need to, in order to build confidence.
List of
Questions
In-Person
Mock Interview
My Interview
Practice Simulator

Questions Unknown Like Real Interviews

Curated Questions Chosen Just for You

No Research Required

Share Your Practice Interview

Do It Yourself

Go At Your Own Pace

Approachable
The My Interview Practice simulator uses video to record your interview, so you feel pressure while practicing, and can see exactly how you came across after you're done. You can even share your recorded responses with anyone to get valuable feedback.
Check out My Interview Practice
Positions you may be interested in
The better way to practice interviewing.
Simulate realistic interviews for over 120 job different titles, with curated questions from real employers.
Learn More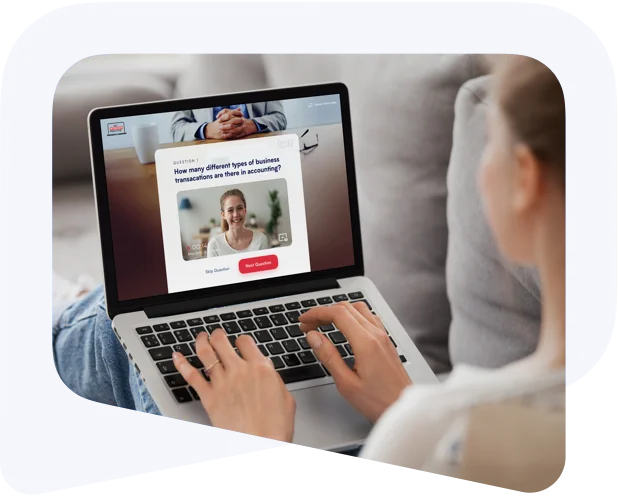 Get the free training guide.
See the most common questions in every category assessed by employers and be ready for anything.
Get the Guide