BACK
Market Researcher Interview Questions
Position Summary
Market researchers are responsible for collecting data on key audiences within a field, such as customers and competitors. They then take this data and compile it into actionable summaries and reports.
Market researchers gather data in a variety of ways. This can be by calling or emailing customers, observing consumer trends, or analyzing data from marketing campaigns. They will typically provide an analysis of the data they have collected and how it can be utilized.
Responsibilities
Market researcher responsibilities may include:
Collecting and analyzing statistical data
Providing analysis of industry competitors
Designing surveys and questionnaires to collect customer information
Identifying where to reach customers in order to collect data
Evaluating data to ensure it is valid
Communicating findings to marketers
Skills
It's impossible to market effectively if you don't know who you're marketing to. In order to gather as much customer data as possible, a skilled market researcher will:
Possess great interpersonal skills to communicate with customers
Utilize creative thinking to reach customers in unique ways
Possess a strong work ethic
Think critically to effectively analyze data
Have strong deductive reasoning to make recommendations from the data
Qualifications
In order to gain an entry-level position, candidates will need a bachelor's degree in market research, administration, computer science, or a related field. However, candidates without a degree can gain employment if they have prior experience in data analysis. For candidates who wish to qualify for leadership positions, an MBA is typically required.
If you're getting ready to interview for a position as a market researcher, you can prepare by researching the company as much as possible. Learn about the 9 things you should research before an interview.
Salary
Salaries for market researchers range between $57K and $96K with the median being $73K.
Factors impacting the salary you receive as a market researcher include:
Degrees (associate's or related certificate, bachelor's degree, master's degree)
Years of Experience
Location
Reporting Structure (seniority of the executive you report to, number of direct reports)
Level of Performance - Exceeding Expectations
Interviews Are Unpredictable
Be ready for anything with the interview simulator.
Market Researcher Interview Questions
Question: What is the importance of market research, and why should it be conducted?
Explanation: This is a general or opening question an interviewer will use at the beginning of an interview. The purpose of this type of question is to get you talking, find out more about your background, and collect information they can use for subsequent questions.
Example: "Market research is critical for both new and existing products. The benefits market research provides is to ensure the product is properly positioned in the marketplace and targeting the appropriate customers. It also helps marketers develop promotional campaigns, pricing strategies, and distribution plans. Using marketing research saves money and makes the entire marketing process more efficient and effective."
---
Question: What market research methods have you used in your past positions?
Explanation: This is an operational question which the interviewer will ask to learn about how you go about performing this job. It also provides them with information about your skills and experience and the tools you use to conduct marketing research.
Example: "I use a variety of different marketing research tools and methodologies. These include surveys, competitive research, focus groups, and statistical analysis. Each of these methodologies provides different information which I then combine into a comprehensive market report. I use the results to create a set of recommendations the senior management team of the organization uses in their decision-making process."
---
Question: How do you go about communicating your market research results to the leadership team?
Explanation: This is a follow-up question. The interviewer is seeking to learn more about a specific topic based on the answer you provided to the last question. Any time you answer a question during an interview, you should anticipate follow-up questions. This is one reason to keep your answers short and to the point. The interviewer can always ask follow-up questions if they need more information.
Example: "When I prepare reports for the senior management team, I strive to communicate my market research findings clearly and concisely. The report includes a summary statement, a set of recommendations, a description of the research I performed, and details of the results. I also include graphic elements that illustrate my findings and make it easy for the management team to interpret the results."
---
Question: What do you feel is the most effective way to conduct market research?
Explanation: This question is asking your opinion about the market research process. Its real purpose is to gain an understanding of the techniques you use to conduct research. Therefore, it is an operational question. Operational questions are best responded to by providing a brief description of the process you use. In some cases, you can provide a step-by-step description that walks the interviewer through the process.
Example: "I believe the most effective way to conduct market research is to use a combination of quantitative and qualitative research methods. The quantitative methods measure sales, regional demographics, market statistics, and other metrics related to the product. Qualitative methodologies include focus groups, surveys, and online research. When combined, these methods produce a comprehensive picture of the market potential for a product, the competitive environment, and other items which will impact the marketing decisions a company makes."
---
Question: What methods do you use to keep your market research knowledge and skills up to date?
Explanation: The interviewer will ask this question to ensure you make an effort to stay up to date on contemporary market research methods, tools, and techniques. As with most professions, maintaining your currency in the profession is a fundamental requirement of the job. You should have a specific plan and techniques you use to accomplish this.
Example: "I work hard to stay current on the most recent market research techniques and tools. This helps me do my job as well as I can and makes my job easier. I spend several hours a week reading relevant publications, industry blogs, and other information. I am a member of several marketing-related professional organizations, and I attend at least one industry event each year. I also have frequent conversations with my peers in the industry to see what techniques they are using and learn about their best practices."
---
Question: Can you describe the difference between qualitative and quantitative market research and when you would use each of them?
Explanation: This is a technical question that is asking you to define specific concepts used in your profession. Technical questions are similar to operational questions in that they should be responded to directly and concisely. The interviewer will ask a follow-up question if they are interested in the topic or need more information about the answer you provided.
Example: "The two types of research methodology I use are qualitative and quantitative. Qualitative techniques include surveys, focus groups, questionnaires, and direct observation. These are subjective, but when aggregated, they provide a comprehensive picture of the market. Qualitative measures include statistical analysis, numerical measurement of the market dynamics, demographics, and other methodologies involving specific numbers, quantities, or percentages. They define the market potential, competitive positioning, and other metrics used to determine specific results obtained from marketing efforts."
---
Question: How do you go about forecasting the market demand for a new product?
Explanation: You probably recognize this as another operational question. The interviewer is seeking to determine the methodology you use to forecast demand for a product. As a reminder, operational questions are best answered directly and concisely with little embellishment. Simply describe the techniques you use or the process you go through to accomplish the task about which the interviewer is asking.
Example: "Forecasting the market demand for a new product requires using both quantitative and qualitative methodologies. The quantitative measurements include demographic information, determining the market size, and establishing the relative positions of each competing product. Qualitative methodologies include surveys, questionnaires, and focus groups which determine product preferences, current product usage, and the demand for new and unique products. Based on both of these techniques, I can forecast the demand for a new product and make recommendations for the pricing, distribution, and promotional strategies."
---
Question: Can you identify a product that has effective marketing and how market research contributed to its success?
Explanation: A researcher will ask you this type of question to gain an understanding of your knowledge of how market research impacts the success of a product. It will also give them an idea of your tastes and preferences based on the products you choose to discuss in your answer.
Example: "One recent success story in the field of marketing is Harry's shaving razors. This upstart company entered a market dominated by well-established consumer product manufacturers. Over 90% of the market was owned by two companies - Schick and Gillette. Harry's performed market research which indicated consumers wanted another alternative in a disposable razor. Feature preferences they discovered included a unique design, lower price, and easier way to obtain the supplies. Harry's used this data to design a system based on a subscription service. They priced the product below the current offerings, gave it a contemporary design, and offered refills via subscription. Using edgy marketing techniques, they were able to create a high level of demand for the product and quickly establish themselves as a market leader. The company was eventually purchased by one of the established manufacturers who continued to market the product in the same manner."
---
Question: What information do you use to determine how to introduce a product into a new market?
Explanation: An interviewer will ask this type of question to understand how you go about accomplishing this task. This is likely one of the tasks you'll be assigned if you are hired for the position. Since it is an operational question, keep your answer brief and organize it so the interviewer can easily follow the process and your logic behind it. You should anticipate follow-up questions after you have provided your answer.
Example: "Information I collect to determine how to introduce a product into a new market includes the market demographics, current demand for product category, existing and potential competitors, the current pricing strategies, and how consumers learn about new products similar to this one. I may also be interested in complementary products and other market factors that will impact the product's success."
---
Question: What is your approach to analyzing customers and competitors for a product?
Explanation: This is yet another operational question which seeks to determine how you go about doing your job. It is very specific, and you should only address the topics asked by the interviewer. If you are aware of the products the organization with whom you are interviewing sells, your answer should relate to them in the market they address.
Example: "When analyzing the prospective customers and existing competitors for a product, I seek out specific groups most likely to use the product and only the most dominant competitors. This helps narrow my focus to the specific information and metrics which have the most impact on the product I am researching. I look for both the standard and unique uses for the products as well as any differentiators that distinguish the product from its competition. These are the factors that will be highlighted in the product marketing materials and pricing strategy."
---
Additional Market Researcher Interview Questions
What data collection methods have you previously used?

Walk me through the process of analyzing consumer data in relation to a new product release.

What is most important when looking at a new data set?

What steps would you take to analyze our customers?

Can you explain to me what an s-curve is?

What experience do you have with statistics?
A word of warning when using question lists.
Question lists offer a convenient way to start practicing for your interview. Unfortunately, they do little to recreate actual interview pressure. In a real interview you'll never know what's coming, and that's what makes interviews so stressful.
Go beyond question lists using interview simulators.
With interview simulators, you can take realistic mock interviews on your own, from anywhere.
My Interview Practice offers a simulator that generates unique questions each time you practice, so you'll never see what's coming. There are questions for over 120 job titles, and each question is curated by actual industry professionals. You can take as many interviews as you need to, in order to build confidence.
List of
Questions
In-Person
Mock Interview
My Interview
Practice Simulator

Questions Unknown Like Real Interviews

Curated Questions Chosen Just for You

No Research Required

Share Your Practice Interview

Do It Yourself

Go At Your Own Pace

Approachable
The My Interview Practice simulator uses video to record your interview, so you feel pressure while practicing, and can see exactly how you came across after you're done. You can even share your recorded responses with anyone to get valuable feedback.
Check out My Interview Practice
Positions you may be interested in
The better way to practice interviewing.
Simulate realistic interviews for over 120 job different titles, with curated questions from real employers.
Learn More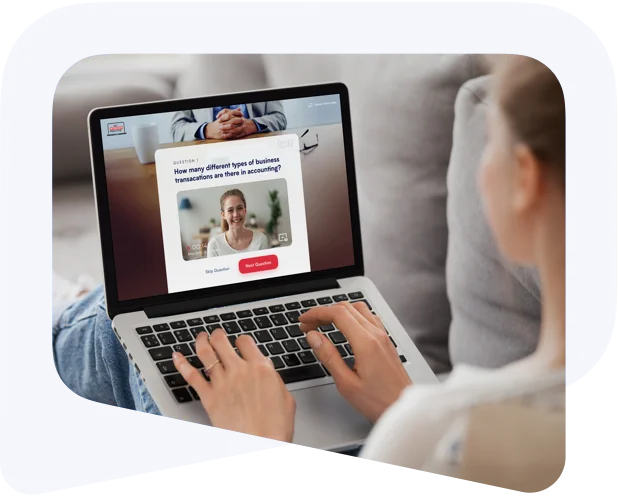 Get the free training guide.
See the most common questions in every category assessed by employers and be ready for anything.
Get the Guide