BACK
Public Relations Officer Interview Questions
Position Summary
Public relations officers maintain the good image of a brand or company using proactive marketing. This can include anything from developing commercial advertisement campaigns to conducting grassroots promotions.
Public relations officers must stay on top of current events in the world in order to effectively maintain a good brand image. Much of their daily work involves coordinating company reactions to current events and developing campaigns around them.
Responsibilities
Public relations officer responsibilities may include:
Speaking at press conferences
Attending promotional events
Responding to inquiries from the press
Drafting press releases
Analyzing media coverage
Skills
Consumers do business with brands they like. To ensure a brand maintains a good image with its fan base, a skilled public relations officer will:
Maintain professionalism at all times
Possess excellent interpersonal skills to get buy-in from other departments
Think creatively to proactively develop a brand's image
Stay up to date on current trends
Stay on top of all marketing channels
Qualifications
Entry-level positions typically require a bachelor's degree in public relations, communications, or a related field. Additionally, many employers will want clients with prior experience which can be gained through internships or a public relations society. For those seeking management positions, an MBA is required.
If you're getting ready to interview for a position as a public relations officer, you can prepare by researching the company as much as possible. Learn about the 9 things you should research before an interview.
Salary
Salaries for public relations officers range between $82K and $139K with the median being $108K.
Factors impacting the salary you receive as a public relations officer include:
Degrees (associate's or equivalent certification, bachelor's, master's)
Years of Experience
Location
Reporting Structure (seniority of the executive you report to, number of direct reports)
Level of Performance - exceeding expectations
Interviews Are Unpredictable
Be ready for anything with the interview simulator.
Public Relations Officer Interview Questions
Question: Can you explain your concept of public relations and why you chose to work in this field?
Explanation: This is an example of a general or opening question. The interviewer will ask this type of question to get you talking, learn more about you, and gather information they can use for subsequent questions.
Example: "I believe public relations is about developing awareness for a company and its products and then creating a positive image for both. The ultimate goal is to convince people to become advocates for the company's brand. I'm drawn to this field because I enjoy working with people and the challenges this job provides. I also have a passion for telling stories which is what this job is all about."
---
Question: What background do you have in writing, and is this a strong skill for you?
Explanation: An interviewer will ask this question because writing is a critical skill public relations officers need to have. You can expect these sorts of qualifying questions throughout the interview. You should be able to talk about your skills and experience and how they relate to the requirements for the job. You can prepare for this by reviewing the job posting and your resume before the interview.
Example: "Writing is one of my passions and a major reason I chose to become a public relations officer. I began writing while still a child and have spent a lot of time documenting things that happen around me. I started writing stories in junior high and joined the school's newspaper and yearbook committees. I've always enjoyed telling stories and writing editorial pieces that tried to sway public opinion in favor of a cause."
---
Question: What is your favorite brand, and what are some of the reasons you're attracted to it?
Explanation: This is another general question which the interviewer is using not so much to determine your favorite brand but to understand your rationale for choosing it. Your answer to this question will demonstrate your understanding of public relations as well as some biases you may have. Make sure you frame your response in alignment with the company's public image or its brands.
Example: "By far, Progressive Insurance is my favorite brand. I admire the creativity of their promotions and commercials and how they tie everything back to the company's products and services. Everything they do, from the colors they've chosen to the characters in their promotions and the offers they promote, creates a unified brand image for the company. Their success is reflected in the market share they have garnered in their industry."
---
Question: Which clients that our firm works with do you find most interesting, and whose account you would like to be assigned to?
Explanation: This question will tell the interviewer several things. First, have you done your research on the firm, and do you know who their clients are? This is important and could set you apart from the other applicants. It will also give them an indication of the type of work you like to do and the type of client with whom you want to work. If you've done your pre-interview research well, you should be prepared for this question and be able to answer it easily.
Example: "Because your firm focuses primarily on the automotive market, I'd have to say that my favorite clients are Ford and Chevrolet. Not only are these major brands that many people are familiar with, but the work you've done for them is extremely creative and innovative. I especially like how your firm handled the issue with Takata airbags which could have had a major impact on these companies' revenues if it was mishandled."
---
Question: What was the most prominent PR obstacle you had to overcome, and how did you resolve it?
Explanation: This is an operational question which the interviewer will ask to discover how you do your job. The best way to respond to an operational question is to walk the interviewer through the process you use to resolve the issue about which they are questioning you.
Example: "Probably the biggest challenge I had in my PR career was when the company issued a major product recall due to a manufacturing defect. We had shipped over 10,000 products and had to recall them for safety issues. I convinced the company to be proactive by taking full responsibility for the product and compensating the customers. Because of this response, the company's brand grew stronger due to its willingness to help consumers when a problem occured."
---
Question: What questions do you find most challenging to answer when responding to media inquiries?
Explanation: This is another operational question. The interviewer is seeking to understand what questions you find difficult and determine if these are important to the organization. A good response would be to state the questions you find difficult and then describe how you handle them. Overcoming challenges is an essential skill employers look for in public relations officers.
Example: "The most difficult questions I encounter as a public relations officer is when an organization's leaders have made statements which have been determined to be false or misleading. The media immediately responds to this and puts a great deal of pressure on the organization and its leadership team. The best way to respond to this situation is with sincerity and honesty. I try to convince the leaders to admit their mistakes and take responsibility for the misstatements. The worst thing you can do is try to cover up the situation."
---
Question: What media outlets do you follow, and why do you prefer to watch, read, or listen to them?
Explanation: This is yet another operational question. You can anticipate that the majority of questions asked during an interview will be operational in nature. The interviewer is interested in determining the types of media you follow and how you interact with them. Again, your answer should align with the types of media their organization typically uses for its PR activities.
Example: "The media I typically follow are the local television stations, the cable news and business networks, popular talk radio shows, local newspapers, and trade publications for this industry. I also monitor social media outlets and follow influencers who blog about the products and services marketed by the companies I work for."
---
Question: You mentioned social media in your last answer. How do you use social media to help your clients?
Explanation: This is an example of a follow-up question. Interviewers will ask follow-up questions if they have a particular interest in a topic or want to learn more about your previous answer. You should anticipate follow-up questions any time you respond to an interviewer's question.
Example: "Social media has become one of the key tools I use in my public relations campaigns. These platforms provide access to audiences that may not be available through other types of media. This also allows me to send out a message quickly and efficiently. I use tools that enable me to create a single message and then populate several social media platforms simultaneously. The other thing social media provides is immediate feedback from the target audience which can be used to refine the message."
---
Question: How do you manage to create a balance between remaining objective and advocating for your clients?
Explanation: This is another operational question. The interviewer is inquiring about an ethical issue many public relations officers encounter. While you are hired to promote your client, their brand, and their interests, you also are required to act ethically. Balancing between these two objectives can be a challenge. You should be able to describe how you do this and possibly provide an example to illustrate it.
Example: "I am often faced with a situation in which my perception of an issue differs from that of a client. While I am obligated to place the client's interest first, I also strive to maintain my professional ethics. If I feel that what a client is asking me to do violates my ethics or those of the industry we work in, I try to convince them that we need to change the message. I'm usually successful in this."
---
Question: How have you handled public relations crises in your previous roles?
Explanation: This is another operational question. The interviewer is asking you to address a particular issue which they either have already encountered or anticipate encountering in the future. The best way to answer this type of question is to relate a story to illustrate how you behaved when faced with the same issue.
Example: "I've only had a few PR crises in my past positions. One that comes to mind was when the company's president was accused of sexual misconduct with an employee. The board suggested we downplay the issue and wait for it to blow over. However, I knew in my heart that the best course of action would be to confront the issue head on. I convinced the president to admit to his actions, take full responsibility, issue an apology to the employee and the entire company, and enter a counseling program. This resulted in the issue going away after only a week. In my opinion, denying it would've dragged out the publicity over this for several weeks. In hindsight, I would do the same thing over again."
---
Additional Public Relations Officer Interview Questions
What does public relations mean to you, and why?

How do you measure the results of a PR campaign?

Have you ever had to handle a PR crisis? Walk me through the situation and what you did to contain it.

How would you communicate with a reporter?

Can you describe the difference between public relations and advertising?

How do you use social media to help your clients?
A word of warning when using question lists.
Question lists offer a convenient way to start practicing for your interview. Unfortunately, they do little to recreate actual interview pressure. In a real interview you'll never know what's coming, and that's what makes interviews so stressful.
Go beyond question lists using interview simulators.
With interview simulators, you can take realistic mock interviews on your own, from anywhere.
My Interview Practice offers a simulator that generates unique questions each time you practice, so you'll never see what's coming. There are questions for over 120 job titles, and each question is curated by actual industry professionals. You can take as many interviews as you need to, in order to build confidence.
List of
Questions
In-Person
Mock Interview
My Interview
Practice Simulator

Questions Unknown Like Real Interviews

Curated Questions Chosen Just for You

No Research Required

Share Your Practice Interview

Do It Yourself

Go At Your Own Pace

Approachable
The My Interview Practice simulator uses video to record your interview, so you feel pressure while practicing, and can see exactly how you came across after you're done. You can even share your recorded responses with anyone to get valuable feedback.
Check out My Interview Practice
Positions you may be interested in
The better way to practice interviewing.
Simulate realistic interviews for over 120 job different titles, with curated questions from real employers.
Learn More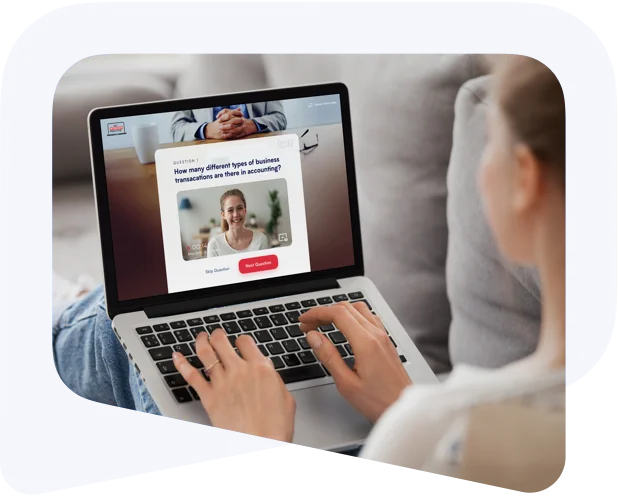 Get the free training guide.
See the most common questions in every category assessed by employers and be ready for anything.
Get the Guide