BACK
Bank Teller Interview Questions
Position Summary
A bank teller is a representative of a bank who assists customers with their transactions. Bank tellers will often be the contact point between customers and the bank, and as such, they should possess strong interpersonal and customer service skills.
The duties may vary from bank to bank, but bank tellers can expect to help customers with processing loan payments, making withdrawals from checking or savings accounts, and cashing checks.
Responsibilities
Bank teller responsibilities may include:
Recording financial transactions
Cross-selling bank products or services
Providing customer service over the phone and in person
Advising customers on company policies
Counting and packaging currency and coins
Skills
Bank tellers act as the face of the bank and are responsible for providing a pleasant experience for customers as they interact with the company. In order to aid customers with their money transactions and advise them on company policy, a skilled bank teller will:
Possess an eye for detail in order to accurately report transactions
Maintain a meticulous organizational system
Provide customer service over the phone and in person
Communicate clearly with customers, team members, and management
Demonstrate proficiency with company software
Qualifications
Typically, bank tellers will only need a high school diploma for entry-level jobs. More important is their background in customer service. Bank tellers must be able to provide customers with a pleasant experience in order to ensure customers will continue to use their bank's services.
In addition to customer service, bank tellers will want to demonstrate proficient math skills when it comes to counting and handling large amounts of money. Skills with popular financial software is also preferred.
If you're getting ready for your first interview as a bank teller, you can find more information about preparing for your first interview on our blog, 5 tips for acing your first interview.
Salary
Salaries for bank tellers range between $24K and $35K with the median being $29K.
Factors impacting the salary you receive as a bank teller include:
Degrees (high school diploma, associate's, bachelor's)
Years of Experience
Location
Reporting Structure (seniority of the manager you report to, number of direct reports such as junior tellers)
Level of Performance - exceeding expectations
Interviews Are Unpredictable
Be ready for anything with the interview simulator.
Bank Teller Interview Quesitons
Question: What skills and other qualities do you think are important for a bank teller to possess?
Explanation: This is an opening or general question which the interviewer will ask to get you talking, learn more about you, and obtain information they can use for subsequent questions.
Example: "There are several qualities that a good bank teller must possess. These include honesty, integrity, attention to detail, and good communication skills. Honesty and integrity are important because people and the bank are trusting you with their money. Attention to detail helps you process transactions accurately. Good communication skills enable you to provide excellent customer service."
---
Question: What does excellent customer service look like, and how do you go about providing it?
Explanation: This is your first operational question. Operational questions help the interviewer understand how you go about doing this job. Operational questions are best answered by describing the process you use to accomplish the task about which the interviewer is asking you.
Example: "Customer service as a key skill a bank teller must possess and is important to the bank's operations. I believe customers choose their bank based first on the services available and then on the friendliness and capabilities of the employees. Since the teller is one of the first people most customers encounter in a bank, it is important to provide great service. I do this by smiling, listening to the customers, answering their questions, and processing their transactions efficiently and accurately."
---
Question: Can you tell me about the extent to which you've handled large amounts of cash?
Explanation: This is another operational question which the interviewer is asking to make sure you've done this job before. The nature of this question indicates this is an important aspect of a bank teller's job, and they want to make sure you are comfortable doing it.
Example: "As you can see from my resume, not only have I worked as a bank teller in the past, but I've also worked as a retail cashier. Both of these positions required me to handle large volumes of cash quickly and accurately. I am very comfortable doing this and take pride that my register or cash drawer has always balanced at the end of my shift."
---
Question: What financial management and bank teller software applications are you familiar with?
Explanation: This is a technical question. Interviewers will ask technical questions to determine your knowledge of the technology, terminology, and processes required by the job for which you're interviewing. Technical questions are best answered straightforwardly and concisely. The interviewer may ask you a follow-up question if they require additional information.
Example: "I am familiar with or have worked with several software applications related to banking and financial transactions. I am very familiar with Quicken and QuickBooks as well as other home and small business accounting software. People sometimes ask me about this, and I'm usually able to answer their questions. In my last position, we used an automated banking system called EZTeller which let me handle transactions quickly and efficiently."
---
Question: A bank teller's job requires a lot of routines each day. How do you perform in jobs like this?
Explanation: This is another operational question which the interviewer is asking to determine if you would be a good fit for the job. While this doesn't address specific tasks or knowledge required to be a bank teller, it does talk about the general behavior you'll be experiencing in this position. Even if repetitive or routine work is not your favorite part of the job, you should always answer interview questions in a positive manner.
Example: "Many jobs I've held throughout my career have involved routine or repetitive tasks. This is actually one of the things I like about this type of work. It allows me to learn the process quickly and then continue to refine it so I become more efficient and effective at performing these types of duties. Sometimes, I even make a game out of it, seeing how I can improve the time it takes to perform a task."
---
Question: How would you sell a new service the bank is offering when a customer comes in to make a deposit to their account?
Explanation: This is an operational question targeted at determining your sales and customer service capabilities. Since bank tellers have the most interaction with the bank's customers, part of their job is to upsell the bank's services. You should be comfortable presenting a service to a customer and either closing a sale or accepting the rejection if the customer declines to take advantage of the offer.
Example: "One of the most important jobs a bank teller can perform is to offer additional services to the bank's customers they interact with. The key to being successful at this is knowing which services the customer already uses, offering them additional services they may be interested in, explaining the service and the benefits it offers to the customer, and answering any questions they may have. You also have to be comfortable if the customer declines the service, keeping in mind that it's the service they are rejecting, not you."
---
Question: What do you do if a person who is not a current bank customer approaches you and asks how they can open an account or become a client of this bank?
Explanation: This is a follow up to the previous question. Interviewers will ask you follow-up questions if they are curious about a specific topic or need additional information. This indicates that this topic is important to them, so you should spend a little more time on your answer than you normally would. You should anticipate follow-up questions any time you answer an interviewer's questions.
Example: "While working as a teller, I'm often approached by people who are not clients of the bank. I let my manager know that I need to spend additional time with this person so they can direct customers to other teller windows. I then take time to explain the bank's services to the prospect, answering any questions they may have and then trying to close by asking if they'd like to open an account at this time. If they need additional help, I call in the manager who then takes them aside so they can spend more time pitching the bank's services and products."
---
Question: How do you go about detecting counterfeit cash and fraudulent checks?
Explanation: This is yet another operational question. As a bank teller, you can expect the majority of the questions they will be asking you will be operational and technical questions. The best way to prepare for these is to review the job posting, research the bank, and be familiar with the processes and operations they perform. You can use questions like these to practice your answers to questions you anticipate being asked.
Example: "There are several ways you can detect counterfeit cash or fraudulent checks. These include using a counterfeit pen for the cash and looking for telltale signs of a bad check. These signs include errors in the printing, a suspicious signature, a large amount, and missing information such as an address or bank name on the check. I've detected counterfeit cash on several occasions and a bad check once."
---
Question: Can you tell me about a time when a customer stated that the bank wrongly charged them a fee for a service they didn't use?
Explanation: This is a behavioral question. Behavioral questions seek to understand how you would react to a specific situation presented by the interviewer. Behavioral questions are best answered within the STAR framework. You first describe the Situation, then state the Task you need to accomplish, tell the interviewer about the Actions you took, then describe the Results you obtained.
Example: "It is not uncommon for a customer to approach me at my teller window to complain about an issue they are experiencing. This exact situation happened to me in my previous position. A customer was charged a fee for printing checks, even though they didn't have a checking account with the bank. I had to satisfy the customer's requirements while also protecting the bank's interest. I reviewed the customer's account and confirmed they did not have a checking account with the bank. I then issued a credit to their savings account in the amount of the fee. Not only was the customer satisfied with this result, but they referred several of their friends to the bank because of the excellent service we provided. My manager commended me for taking this action."
---
Question: What would you do if you witnessed a fellow employee taking $100 from their drawer and putting it in their pocket?
Explanation: This is another behavioral question. The interviewer will ask this type of question to determine your level of integrity and your ability to protect the bank's interests. You stated earlier that honesty and integrity are key attributes a bank teller should possess. Make sure you use the STAR framework to respond to this question, even though it projects behavior that will occur in the future.
Example: "Let me reiterate that honesty and integrity are some of the key attributes a bank teller must have. If I were to witness one of my fellow tellers taking money from the bank, I would immediately inform my manager. Confronting the teller may force them to return the money, but it would not address the issue of their honesty. Informing the manager enables them to deal with the issue directly. If, for some reason, I had made a mistake or the manager allowed the other teller to remain on the job, I would explain to the other teller about my beliefs in honesty and how I was only looking after the bank's interests."
---
Additional Bank Teller Interview Questions
What do you believe is the most important thing in customer service?

If you found a way to do a task more efficiently than the way you were instructed, what would you do?

Have you had any experience handling cash? If so, where and how did you gain your experience?

If an existing customer became angry over a new bank verification policy, how would you handle it?

If you were facing a problem with a customer and did not know how else to proceed, what would you do?
A word of warning when using question lists.
Question lists offer a convenient way to start practicing for your interview. Unfortunately, they do little to recreate actual interview pressure. In a real interview you'll never know what's coming, and that's what makes interviews so stressful.
Go beyond question lists using interview simulators.
With interview simulators, you can take realistic mock interviews on your own, from anywhere.
My Interview Practice offers a simulator that generates unique questions each time you practice, so you'll never see what's coming. There are questions for over 120 job titles, and each question is curated by actual industry professionals. You can take as many interviews as you need to, in order to build confidence.
List of
Questions
In-Person
Mock Interview
My Interview
Practice Simulator

Questions Unknown Like Real Interviews

Curated Questions Chosen Just for You

No Research Required

Share Your Practice Interview

Do It Yourself

Go At Your Own Pace

Approachable
The My Interview Practice simulator uses video to record your interview, so you feel pressure while practicing, and can see exactly how you came across after you're done. You can even share your recorded responses with anyone to get valuable feedback.
Check out My Interview Practice
Positions you may be interested in
The better way to practice interviewing.
Simulate realistic interviews for over 120 job different titles, with curated questions from real employers.
Learn More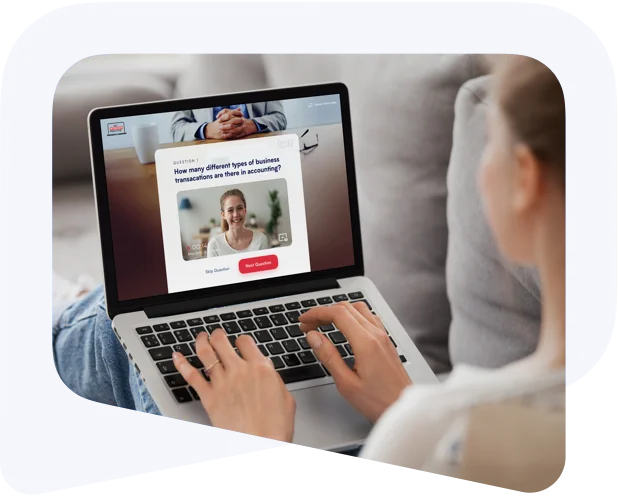 Get the free training guide.
See the most common questions in every category assessed by employers and be ready for anything.
Get the Guide