BACK
Medical Receptionist Interview Questions
Position Summary
Medical receptionists are the first people to greet patients as they arrive for appointments and the last people they talk to when they leave. Medical receptionists work with medical office assistants to coordinate scheduling and handle the final steps of insurance billing.
Medical receptionists also help calm anxious patients and guide patients to exam rooms. Receptionists collect information to pass on to the medical office assistants and handle copays and fees as well.
Responsibilities
Medical receptionist responsibilities include:
Coordinating scheduling around doctor availability
Handling insurance information to be passed on to medical office assistants
Answering phones and taking messages
Directing patients to exam rooms at appointment times
Calming angry or anxious patients
Skills
Skills required to be a medical receptionist include:
Good interpersonal skills
Knowledge of billing and insurance information and procedures
Knowledge of medical terminology
Knowledge of medical database use
Appropriate IT skills for the medical field
The ability to multitask effectively
Qualifications
As an entry-level position, the position of medical receptionist requires a highschool diploma or GED, but it doesn't always require prior experience. Most positions offer on-the-job training, but outside courses in medical administration can be taken. These courses are offered at community colleges and typically include medical terminology, office administration, and IT skills.
Salary
Salaries for medical receptionists range between $29K and $43K with the median being $36K.
Factors impacting the salary you receive as a Medical Receptionist include:
Degrees (high school, associate's, bachelor's)
Location
Size and Type of the Organization
Reporting Structure (seniority of the office administrator or supervisor you report to, the size and type of the organization)
Level of Performance - exceeding expectations
Interviews Are Unpredictable
Be ready for anything with the interview simulator.
Medical Receptionist Interview Questions
Question: As a receptionist, you can work for any company in a wide range of industries. Why did you choose to pursue a career as a medical receptionist?
Explanation: This is a general or opening question the interviewer will ask to begin the conversation, collect some information, and gain a better understanding of you and your background.
Example: "I have always thought I would be a good receptionist since I enjoy working with people in an office environment. I also have a passion for healthcare, having been exposed to this early due to some childhood illnesses. It occurred to me that by combining these, I could do what I am good at in an environment that I'm interested in and enjoy working in."
---
Question: What do you know about our practice, the physicians and the type of patients we work with?
Explanation: Any employer is interested in why you want to work for them. Your interest must go beyond just wanting a job. You have to be able to demonstrate some passion for their organization and be able to discuss what you learned about them before applying for the job and what you find attractive about the prospect of working with them.
Example: "When researching medical offices in this area, my interest was drawn to this office for several reasons. One is that the group of physicians working here are well known and respected in their fields. I also learned that you treat a wide variety of patients with both common as well as unique conditions. And finally, I reviewed the comments on your web site, and it became apparent that you are focused on the patient experience. I feel I can contribute to this and help the organization continue to get good reviews."
---
Question: In addition to greeting guests and answering the phone, what other duties did you manage in your previous positions?
Explanation: Any receptionist must perform duties other than greeting the guests and handling phone calls. The receptionist is seen as a person who can supplement other office staff and perform many of their duties on request. These include filing, typing, data entry, and many other office tasks.
Example: "In addition to being the face of the organization, greeting guests, and handling phone calls, I perform quite a few other office tasks. I'm adept at filing, data entry, creating presentations, making inquiries with suppliers, vendors, and other partners of the practice, and assisting with the billing and collections. I've done all of these tasks at several of my previous positions."
---
Question: What systems have you worked with to maintain patient accounts?
Explanation: This is a follow-up to the previous question. Since you mentioned that you do other office tasks, the interviewer will be interested in what systems you worked with. You should anticipate follow-up questions every time you provide an answer to the interviewer.
Example: "I have worked with a variety of different systems to maintain patient accounts. Some of these were custom to the practices I worked with, while other ones were commercially available such as Microsoft products. One of my employers used a CRM system which I was unfamiliar with but learned very quickly."
---
Question: Do you have any experience making debt collection calls? If so, what have you found to be the most effective way to get the patient to pay their bill?
Explanation: The purpose of this question is to see how you will deal with unwanted or difficult parts of the job. The key to answering this question appropriately is to be honest. If you state that you are comfortable making debt collection calls and are subsequently hired, you will be expected to do this. If, in fact, you're uncomfortable, this will become a problem at some point, and you and the employer will have to address it. It is better to state your objection to this early.
Example: "To be honest, making debt collection calls is not one of my favorite parts of this job. However, I've done this in my other roles, and I know how to do it effectively. What I have found works best is bonding with the patient and explaining the importance of paying their bills so that our services can continue to be available to them. I am skilled in negotiating and can usually create win-win scenarios in which the patient pays all of their bills or we set up a payment plan they can manage."
---
Question: What have you done at one of your previous jobs to help the organization make money, reduce costs, or save the time it takes to complete a task?
Explanation: This is a critical question anybody interviewing for any job should be able to answer. Organizations hire employees to contribute to one or more of these objectives. The best way to respond to this question is to provide an example of how you helped a previous employer save money, make money, or save time.
Example: "During my current job as a medical receptionist, I am always looking for ways to improve processes or reduce the amount of time it takes to perform a specific task. One thing I discovered was that our filing system was inefficient. It was difficult to classify the files properly, and people had trouble retrieving the files when they were needed. I remembered a system we used in my previous role, and I discussed this with the office manager. They were very receptive and enabled me to implement the system. By doing so, we reduced the filing time by 50% and were able to use the time we saved for other more important tasks."
---
Question: There are several patients at your desk, the phone is ringing, and the doctor has asked to speak with you. Which order would you address these tasks and explain your rationale?
Explanation: This question addresses your ability to multitask and prioritize. A receptionist is often met with many simultaneous and conflicting demands for their time. You have to be able to discern which is the most important, which can be done the quickest, and which can be postponed.
Example: "As a medical receptionist, I'm often asked to do multiple tasks simultaneously. Sometimes, this is easy to achieve, and other times, it is impossible. If I were presented with the scenario you asked about, I would first answer the phone and put the caller on hold and then ask the people at my desk to be patient, informing them I would be with them as quickly as possible. I would explain to the doctor that I had people on the phone and at my desk and would speak with them once I had taken care of our patients."
---
Question: What measures do you take to ensure a patient's confidentiality is respected and their information is secure?
Explanation: Patient confidentiality is a premier concern in any medical practice. This is defined by the Health Insurance Portability and Accountability Act (HIPAA). You should be familiar with this, be able to discuss some of its requirements, and talk about how you go about maintaining patient confidentiality and protecting their medical information.
Example: Even though I do not perform any medical services, I still need to adhere to HIPAA requirements. I recognize that patient confidentiality is a key element to the services we provide. I make sure to never discuss a patient's medical information if other people are around and to not share their information with anybody unless I have their specific authorization. I also make sure patient records are protected, either physically or electronically."
---
Question: Do you have any interest in pursuing other roles in the field of medicine, such as a medical assistant, nurse, or even physician?
Explanation: Employers are always interested in people who have a career plan and want to advance themselves within an industry. If you enjoy working as a receptionist and want to continue to do so, stating this is appropriate. However, if you are working as a receptionist in a medical environment to become familiar with the medical practice and perhaps pursue another career in this field, you should state that as well.
Example: "Working as a medical receptionist is something that I enjoy and am good at. However, I've always thought it would be interesting to obtain the credentials to become a medical office assistant. This would allow me to interact more with patients, provide basic health care services, and learn more about the medical practice. I am currently taking night courses to qualify for this role."
---
Question: What would you do if one of the patients in the waiting room fainted?
Explanation: While it is not one of your primary duties, being able to respond to emergencies that occur in a medical office is an important quality you should have. Even if you are not trained in this field, you should be able to perform basic first aid and possibly CPR.
Example: "When I decided to become a medical receptionist, I took basic first aid, CPR, and AED courses. This made me feel more comfortable in an environment where people are ill and could have an emergency. If a patient were to faint in the reception area, I would first make sure they were in a position where they could not harm themselves further. I would immediately call one of the medical staff for assistance, and when they arrived, I would focus on the other patients, calming them down or ushering them to a different area. If the situation were more critical, I would focus on addressing the patient's needs until medical personnel arrived."
---
Additional Medical Receptionist Interview Questions
Have you ever worked in a medical environment before? If so, describe the experience.

Do you have any administration experience?

How would you handle a difficult patient?

How would you handle and console a frightened patient? Do you have any experience handling children?

Do you enjoy interacting with people beyond the formalities of being a receptionist?

Are you CPR certified?

Describe your computer skills. Do you have any training in medical-related IT?

Are you familiar with systems for storing patient records?

Are you comfortable multitasking? How do you handle tackling multiple tasks for long periods of time?

How fast can you type? Will you be able to keep up with the pace of a medical practice?
A word of warning when using question lists.
Question lists offer a convenient way to start practicing for your interview. Unfortunately, they do little to recreate actual interview pressure. In a real interview you'll never know what's coming, and that's what makes interviews so stressful.
Go beyond question lists using interview simulators.
With interview simulators, you can take realistic mock interviews on your own, from anywhere.
My Interview Practice offers a simulator that generates unique questions each time you practice, so you'll never see what's coming. There are questions for over 120 job titles, and each question is curated by actual industry professionals. You can take as many interviews as you need to, in order to build confidence.
List of
Questions
In-Person
Mock Interview
My Interview
Practice Simulator

Questions Unknown Like Real Interviews

Curated Questions Chosen Just for You

No Research Required

Share Your Practice Interview

Do It Yourself

Go At Your Own Pace

Approachable
The My Interview Practice simulator uses video to record your interview, so you feel pressure while practicing, and can see exactly how you came across after you're done. You can even share your recorded responses with anyone to get valuable feedback.
Check out My Interview Practice
Positions you may be interested in
The better way to practice interviewing.
Simulate realistic interviews for over 120 job different titles, with curated questions from real employers.
Learn More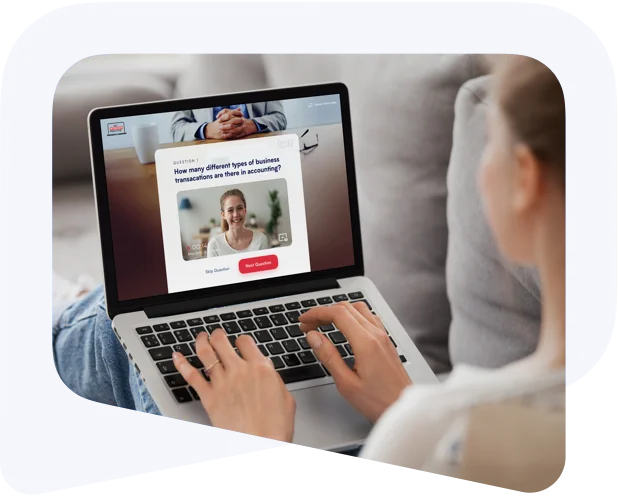 Get the free training guide.
See the most common questions in every category assessed by employers and be ready for anything.
Get the Guide