BACK
Position Summary
A chef's duties include preparing meals for customers as well as overseeing a restaurant's full kitchen and waitstaff. Chefs can also be employed in private homes to plan menus and prepare meals for private functions as well as daily meals.
In a restaurant setting, chefs are members of the kitchen as well as managers for other members of the restaurant staff. They are expected to both lead their employees and work in a functional capacity.
Responsibilities
A chef's responsibilities include:
Managing a full kitchen staff
Planning menus in advance and clearing them with management
Adjusting recipes to fit customer requests
Overseeing and assisting prep work.
Placing and receiving orders for ingredients and restaurant inventory
Estimating labor and food costs to maintain a set budget
Skills
A chef's skills include:
Managerial skills to maintain order in a professional manner
Attention to detail when preparing and serving food
Competency in food preparation
The ability to work under time constraints in a high-pressure environment
Adhering to food preparation guidelines
Directing and motivating subordinates effectively
Qualifications
A chef's position requires experience working in commercial kitchens. For more high-profile positions, a degree in culinary arts from a university or culinary school is looked upon favorably. Certifications displaying knowledge of food health and safety guidelines are also required for employment.
Salary
Salaries for chefs range between $58K and $98K with the median being $70K.
Factors impacting the salary you receive as a chef include:
Degrees (high school, associate's, bachelor's, culinary school, specialized training)
Location
Size and Type of the Eating Establishment
Reporting Structure (seniority of the restaurant manager or supervisor you report to, direct reports, the size and type of the organization)
Level of Performance - exceeding expectations, industry recognition, etc.
Interviews Are Unpredictable
Be ready for anything with the interview simulator.
Chef Interview Questions
Question: What motivated you to become a chef, and have you worked in other back-of-the-house jobs?
Explanation: This is an opening question the interviewer will ask to start the conversation, learn more about you, and collect information they can use throughout the interview.
Example: "Ever since I was young, I enjoyed cooking. I used to help my parents in the kitchen, and they were kind enough to teach me their techniques. During high school, I worked in a fast food restaurant and learned additional techniques about food preparation and service. I then decided to make this my career."
---
Question: Are you able to work both a lunch and dinner shift while still staying inspired and maintaining your creativity?
Explanation: This is an operational question. Operational questions seek to understand how you go about doing your job. When answering an operational question, you should be brief and to the point. The interviewer will ask additional questions if they need more information.
Example: "Throughout my career in the foodservice industry, I've always worked long shifts. I have adapted my lifestyle so I can work late into the evening and still take care of my personal needs the following day. I also don't mind working weekends. I can maintain my enthusiasm for this work because of my love for food preparation and the energy I get from the people I work with."
---
Question: What on-the-job training have you received, and would I recognize one of the chefs you worked for in a previous position?
Explanation: This is another general question which the interviewer is asking to learn more about your background. As a chef, you will be asked general, operational, and technical questions throughout the interview. The best way to prepare for them is to practice the questions on this list.
Example: "As I mentioned earlier, my training started as a child in my parents' kitchen. Working in the fast food industry also taught me other techniques. During culinary school, I was fortunate to intern at several restaurants. One of the chefs I worked under was Brian Malarkey who is well known because of his time as a celebrity chef on the Food Network."
---
Question: Tell me about your knowledge of food safety and how you maintain safety standards in your kitchen.
Explanation: This is a technical question. In addition to being able to prepare interesting and tasteful meals, a chef must be keenly aware of food safety and be able to enforce the standards in their kitchen.
Example: "Food safety is second only to preparing incredible meals. I go to great lengths to maintain the safety standards in the kitchens I manage. This includes training the staff, making sure they are aware of the standards we must maintain, inspecting the facilities regularly, and disciplining anybody who violates a food safety rule."
---
Question: How would you describe your kitchen management style?
Explanation: In addition to preparing meals, chefs must manage the back-of-the-house staff of an eating establishment. This includes hiring, developing, disciplining, scheduling, and directing the staff's activities. You should be able to discuss your skills in this area and how they integrate into your cooking style.
Example: "I have a great deal of experience managing kitchen staff. I would describe my style as being casual, inspirational, and detail oriented. I strive to hire the right people, make sure they have the right skills, give them the resources to do their job, and be there to support them when needed. I then let them do their job with as little oversight as possible. This allows me to focus on the menu and create amazing dishes."
---
Question: How do you maintain the flavor and quality of a dish when you create an item for a reduced-fat or low-sodium menu?
Explanation: This is a technical question. In today's environment, most restaurants offer alternatives to their main menu. These include items that are gluten-free, fat-free, low-sodium, or have other modifications. You should be able to discuss how you go about making these dishes without compromising quality or taste.
Example: "One of the challenges when making dishes for people with restricted diets is replacing the ingredients they can eat with others that help maintain the quality and flavor of the food. I do this by using a variety of spices, substituting the restricted ingredients with similar but healthy items, and creating completely new dishes which people can enjoy without being concerned about the ingredients."
---
Question: How do you stay up to date on new restaurant and foodservice trends?
Explanation: The restaurant and foodservice industry is constantly changing. People's preferences evolve, and new trends are regularly being introduced. Staying abreast of these is a critical responsibility of the chef. You should have a plan for doing this and be able to talk about it during the interview.
Example: "When I am not actively working in the kitchen, I am constantly researching trends in the restaurant industry. I do this by reading magazines and blogs, talking to other chefs, visiting other restaurants to see what their menu looks like, and experimenting in my kitchen. I feel it is critical to keep my menu fresh and up to date and be able to alter it as dining trends evolve."
---
Question: In addition to preparing dishes, do you have budgeting experience, including purchasing and inventory control?
Explanation: Another critical role a chef plays is managing the budget for the back end of the house. Doing this effectively adds to your overall skills and qualifications to work in a restaurant. In addition to generally talking about how you do this, you may want to mention specific tools you use, such as Excel or other restaurant budgeting software applications.
Example: "Early in my career and during culinary school, I was taught to manage a kitchen's budget. I realize restaurants operate on very thin margins and maintaining a tight budget allows us to produce quality food at an affordable price. In addition to tracking all of my expenses using Excel, I am constantly looking for new vendors who can help us lower our costs and new techniques to preserve and prepare food so we minimize waste."
---
Question: If you were asked to reduce your budget without altering your menu, what items would you consider changing?
Explanation: This is a follow up to the previous question. During an interview, you should anticipate follow-up questions. By keeping your answer short and to the point, you allow the interviewer to explore the topic in more detail through follow ups. If they are not that interested, they'll move on to a new subject.
Example: "Whenever I am asked to reduce my budget, I first review the menu to see what ingredients we can either minimize, eliminate, or replace. For example, I often substitute a lower-cost seasonal vegetable in place of one that is not in season. I also look for less expensive cuts of meat that will work just as well in a dish."
---
Question: How do you maintain the quality and freshness of the ingredients you use to prepare the dishes you make?
Explanation: The restaurant industry is extremely competitive, and any edge you can create is advantageous for the business. An easy way to do this is to prepare your dishes with quality fresh ingredients. Both the patrons and the critics will recognize this and provide you with good reviews. As a chef, you should be able to speak about this easily.
Example: "Maintaining the freshness of the ingredients is fundamental to preparing quality dishes. I do this by first sourcing the ingredients locally, either at a farmer's market or from reputable suppliers. I then take care to store the ingredients in such a manner as to maintain their freshness. The final step is only to purchase what I need for today or tomorrow's menu. This eliminates waste and maintains the freshness of the ingredients."
---
Additional Chef Interview Questions
Did you go to culinary school? If so, describe the experience.

What is your prior kitchen experience?

Describe the most difficult situation you have experienced. How did you deal with it?

How much experience do you have in preparing menus?

Are you familiar with local food vendors and prices?

What is your experience in managing kitchen staff?

How do you handle a disagreement with staff? Describe a time you had to mediate a dispute.

Why do you want to work at this particular restaurant?

Is there any cuisine you specialize in? What is your favorite dish to cook?

Describe a time you had to adjust a menu due to unforeseen circumstances.

Are you experienced in making wine pairings and working with sommeliers?
A word of warning when using question lists.
Question lists offer a convenient way to start practicing for your interview. Unfortunately, they do little to recreate actual interview pressure. In a real interview you'll never know what's coming, and that's what makes interviews so stressful.
Go beyond question lists using interview simulators.
With interview simulators, you can take realistic mock interviews on your own, from anywhere.
My Interview Practice offers a simulator that generates unique questions each time you practice, so you'll never see what's coming. There are questions for over 120 job titles, and each question is curated by actual industry professionals. You can take as many interviews as you need to, in order to build confidence.
List of
Questions
In-Person
Mock Interview
My Interview
Practice Simulator

Questions Unknown Like Real Interviews

Curated Questions Chosen Just for You

No Research Required

Share Your Practice Interview

Do It Yourself

Go At Your Own Pace

Approachable
The My Interview Practice simulator uses video to record your interview, so you feel pressure while practicing, and can see exactly how you came across after you're done. You can even share your recorded responses with anyone to get valuable feedback.
Check out My Interview Practice
Positions you may be interested in
The better way to practice interviewing.
Simulate realistic interviews for over 120 job different titles, with curated questions from real employers.
Learn More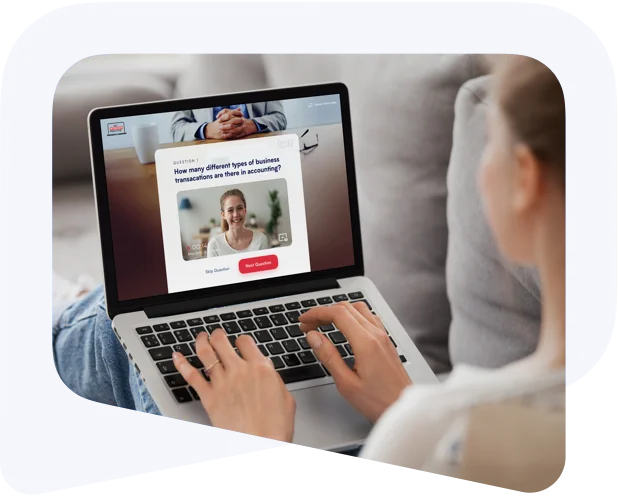 Get the free training guide.
See the most common questions in every category assessed by employers and be ready for anything.
Get the Guide