BACK
Attorney Interview Questions
Position Summary
An attorney (also known as a lawyer) provides representation and legal advice to clients in criminal and civil cases. Attorneys can work as a general practitioner who takes on a variety of clients, or they can specialize in certain fields, such as real estate, criminal, or environmental law.
Attorneys are often assisted by paralegals, but this doesn't mean their job is easy. Attorneys face long hours with the average attorney working an average of 66 hours a week, and their work can be mentally, emotionally, and physically exhausting. However, they are compensated well with a median income of $112,000 per year.
Responsibilities
Attorney responsibilities may include:
Providing legal advice to clients
Representing clients within the judicial court system
Developing case strategies for clients
Preparing documentation for court filing
Negotiating on behalf of their clients
Skills
A good attorney can mean the difference between someone going to jail or walking free. In order to provide the best service possible for their clients, a skilled attorney will:
Remain observant in order to consider all aspects of a case
Possess an eye for detail
Communicate clearly and effectively with clients, staff members, and other parties of the court
Maintain a steady work ethic in order to manage their clients
Adhere to a strict moral standard to make sure they act according to the law
Qualifications
Candidates must go through several steps to become an attorney. After completing a bachelor's degree, candidates must take the LSAT (Law School Administration Test) in order to qualify for law school which will take another three years.
After completing law school, candidates must pass the bar exam in their state to work as a licensed professional. The bar exam is typically a two-day exam composed of questions in multiple areas of law as well as comprehensive essays and performance tests.
For candidates interested in practicing a specific field of law, many schools offer certificate programs or joint degrees.
Salary
Salaries for attorneys range between $91K and $171K with the median being $130K.
Factors impacting the salary you receive as an attorney include:
Degrees (Juris Doctor, passing the bar exam)
Years of Experience
Location
Reporting Structure (seniority of the executive or senior partner you report to and number of direct reports)
Level of Performance - exceeding expectations
Interviews Are Unpredictable
Be ready for anything with the interview simulator.
Attorney Interview Questions
Question: What responsibilities and daily tasks you perform as an attorney do you enjoy the most?
Explanation: This is a general or opening question the interviewer will ask to begin the conversation, learn more about your background, and collect any information they can use for future questions.
Example: "The activities I enjoy the most about being a lawyer include performing research to find precedents for the issues I am addressing, interacting with the clients, preparing briefs, and being part of the firm's team. I especially enjoy working with senior partners and learning from their years of experience."
---
Question: What are the essential qualities you think a competent attorney should have?
Explanation: This is another general question that will provide the interviewer with some information about your background. The qualities you identify should be the ones you possess as well as the ones stated in the job posting. Aligning your answers with the job posting and the requirements for this position is critical to getting the job.
Example: "I believe the most important qualities any attorney needs to possess are tenacity, patience, intelligence, and creativity. Using these qualities will help you navigate your way through the most complex of cases and develop solutions that benefit the clients as well as the firm."
---
Question: What type of law would you like to practice, and how will this position help you prepare for it?
Explanation: This is an operational question. Operational questions seek to understand how you go about doing your job and the preferences you may have within the profession. Operational questions are best answered directly and concisely. The interviewer will ask a follow-up question if they need additional information.
Example: "While the bulk of my experience has been in corporate law, I am passionate about the environment and plan to pursue a career within this segment of the legal industry. Since your firm specializes in environmental law, I thought this would be a great fit for me to both apply my current skills and experience as well as learn from the senior partners who have practiced law within the environmental field for much longer than I have."
---
Question: What was your favorite class in law school, and why did you enjoy it?
Explanation: The interviewer will ask this type of question to learn more about your background as well as your preferences within the legal practice. You can answer this question honestly, but make sure your answer connects the class you identify to the position for which you are interviewing.
Example: "My favorite class during law school was civil law. Not only was I fascinated by the topic, but the professor was able to bring this class to life through his teaching techniques, student engagement, and the practice cases we participated in. It helped that this class also aligned closely with my passion for practicing environmental law."
---
Question: How do you stay current with contemporary legal issues and best practices for our industry?
Explanation: Every profession requires you to remain current in the developing practices, technologies, and other issues that impact your job. Having a specific continuing education and self-development program is critical for any serious professional. You should be able to describe this plan, noting the methodologies you use to stay current in your profession.
Example: "Staying current with developments in the legal profession is second only to the actual work I do as an attorney. I spend a great deal of time outside of work pursuing this. Methodologies I use include reviewing interesting cases within my practice of law, reading journals, attending conferences, and networking with my peers and other industry professionals to discuss how they practice law and some of the techniques they've learned about recently."
---
Question: Please describe your internship experience during law school?
Explanation: An interviewer will ask this question to see if your education and the work you've done in the legal field align with the requirements for the job they are attempting to fill. Assuming you are pursuing a job within the legal practice you have experience with, you should be able to describe your internship and how it contributed to preparing you for this job. If the internship is in a different practice than the job you're applying for, you should identify the transferable skills which you can bring to the position.
Example: "My internship experience involved pro bono work for an environmental group in our local area. I worked alongside one of the senior attorneys, helping the group identify legal issues and preparing legal briefs they could use to get injunctions against developers whose actions were going to harm the environment. I participated in several trial cases, assisting the senior partners. We were successful in obtaining injunctions in the majority of the cases we pursued."
---
Question: In your opinion, what Supreme Court ruling has had the most impact on the legal profession?
Explanation: An interviewer will ask this question to confirm your qualifications and your knowledge of the law. This is a popular question for attorney interviews. It illustrates the need to prepare for interviews by researching the firm, the position, and your knowledge of the law the firm practices. As mentioned previously, each of your answers to the interviewer's questions should demonstrate your qualifications and align with the position for which you are interviewing.
Example: "Probably one of the more impactful cases the Supreme Court ruled on which impacted the legal profession was Gideon v. Wainwright (1963) which held that indigent defendants must be provided representation without charge. This created the pro bono legal practice and helped accelerate the development of community law practices which offered low- and no-fee representation for individuals who could not afford a lawyer in civil cases. It also required governmental entities to provide criminal defendants with legal representation at no charge."
---
Question: What steps do you take to connect to the local legal community and interact with your peers in this profession?
Explanation: This question is similar to one the interviewer asked regarding how you stay current regarding contemporary legal issues and practices. Interviewers will ask several questions about the same topic at different points during the interview to calibrate your answers and confirm you're being consistent with the information you are providing.
Example: "As I mentioned earlier, part of my ongoing continuing education and efforts to stay current with contemporary legal practices is to network with my peers and other industry professionals. This provides me with the opportunity to discuss legal issues, best practices, and other aspects of our industry. It also helps me maintain a network of contacts I can reach out to when I need assistance on a case or just want to get their opinion on something I have questions about. I also maintain memberships in the local bar association and other civic organizations related to the type of law I practice."
---
Question: What would you do if you disagreed with one of the firm's senior partners over a legal issue?
Explanation: This is a behavioral question. Behavioral questions create a scenario that is likely to occur in the role for which you are interviewing and ask how you would respond to it. Behavioral questions are best answered using the STAR framework. You state the Situation, describe the Task you need to accomplish, talk about the Actions you would take, and then describe the Results you hope to obtain.
Example: "Although it's never happened to me, I can envision a time when I may disagree with one of the senior partners of the firm. If this were to occur, my objective would be to resolve the issue quickly. I would start by having a conversation with the partner to discuss the issue, gain a better understanding of their position, and share my thoughts with them. If the disagreement continued, I would seek out the counsel of another partner to see if I misunderstood the situation. If this weren't the case, I would ask them to intervene in the matter. I would imagine that taking these steps would lead to a resolution of the issue."
---
Question: Tell me about a time when you did everything you could to resolve a legal issue and were unsuccessful.
Explanation: This is another behavioral question. People don't like to speak about a time when they failed or were unsuccessful. However, you can do this effectively by stating what you learned from the situation and what you would do differently the next time something similar occurred.
Example: "Unfortunately, no matter how hard I work, matters sometimes don't turn out the way I would like them to. This occurred recently when I was trying to assist a client who had a dispute with one of their neighbors. I believed the information the client was providing me and created a solid defense based on this and case precedents. However, the opposing counsel did a better job of discovery than I did and was able to present facts that I was unaware of which directly contradicted those provided by my client. We ended up losing the case. What I learned was that I need to vet the information provided to me by my clients and do a better job of discovery so I am fully aware of all of the facts which may impact a case."
---
Additional Attorney Interview Questions
Why did you choose law?

What legal areas are you most interested in?

Can you handle multiple hearings in a day?

How do you handle stressful situations?

What kind of challenges are you looking for?
A word of warning when using question lists.
Question lists offer a convenient way to start practicing for your interview. Unfortunately, they do little to recreate actual interview pressure. In a real interview you'll never know what's coming, and that's what makes interviews so stressful.
Go beyond question lists using interview simulators.
With interview simulators, you can take realistic mock interviews on your own, from anywhere.
My Interview Practice offers a simulator that generates unique questions each time you practice, so you'll never see what's coming. There are questions for over 120 job titles, and each question is curated by actual industry professionals. You can take as many interviews as you need to, in order to build confidence.
List of
Questions
In-Person
Mock Interview
My Interview
Practice Simulator

Questions Unknown Like Real Interviews

Curated Questions Chosen Just for You

No Research Required

Share Your Practice Interview

Do It Yourself

Go At Your Own Pace

Approachable
The My Interview Practice simulator uses video to record your interview, so you feel pressure while practicing, and can see exactly how you came across after you're done. You can even share your recorded responses with anyone to get valuable feedback.
Check out My Interview Practice
Positions you may be interested in
The better way to practice interviewing.
Simulate realistic interviews for over 120 job different titles, with curated questions from real employers.
Learn More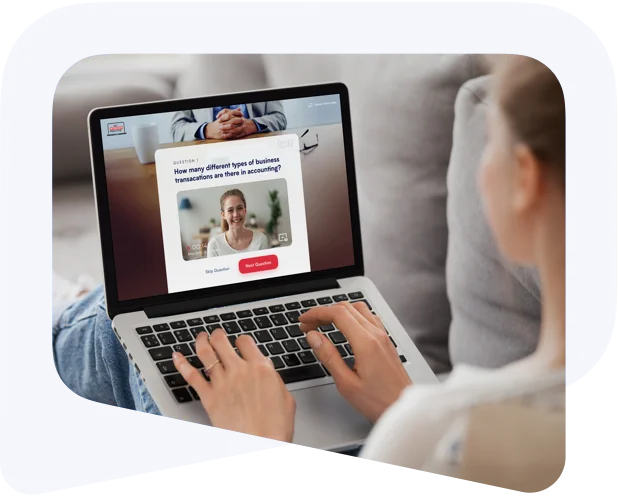 Get the free training guide.
See the most common questions in every category assessed by employers and be ready for anything.
Get the Guide