BACK
Paralegal Interview Questions
Position Summary
Paralegals provide affordable legal aid to the general public as a cheaper alternative for legal services. They typically work under attorney or lawyer supervision and provide aid to them as a legal administrative assistant. The aid they provide can vary from industry to industry with many paralegals choosing to specialize in a certain field.
Although a paralegal's main purpose is to free up the time of their supervising attorney or lawyer, there are some things they are not allowed to do. They can't give legal advice, represent a client in court, or sign documents as a legal representative. However, they can perform duties such as filing motions, interviewing clients, filing paperwork, and drafting documents.
Responsibilities
Paralegal responsibilities may include:
Conducting legal research
Filing motions
Filing documents with the court
Preparing retainers
Investigating a case
Providing evidence that can be used in court
Skills
Paralegals are vital in making sure an attorney is able to focus on the most important part of their job. In order to provide as much value to their supervisor as possible, a skilled paralegal will:
Perform their due diligence to provide accurate facts and statements during a case
Possess an eye for detail when handling legal documentation
Communicate clearly and effectively with their supervisor, staff, and the parties involved with a case
Possess a strong work ethic in order to manage their workload
Stay highly organized to effectively manage multiple clients at a time
Qualifications
There are many paths to gaining employment as a paralegal. Some employers will hire a college graduate with no legal experience and train them on the job if they have experience in a field that would be useful to the firm. Other candidates may possess an associate's, bachelor's, or even a master's degree in paralegal studies.
Additionally, there are many programs that offer a certificate in paralegal studies that will give candidates the skills they need to qualify for a position as a paralegal. Passing exams such as the CLA or PACE can further increase a candidate's prospects.
If you're getting ready to interview for a position as a paralegal, you can prepare by researching the company as much as possible. Learn about the 9 things you should research before an interview.
Salary
Salaries for paralegals range between $59K and $94K with the median being $75K.
Factors impacting the salary you receive as a paralegal include:
Degrees (associate's, Bachelor of Arts, Master's of Arts, CLA or PACE Certification)
Years of Experience
Location
Reporting Structure (seniority of the executive or lawyer you report to and number of direct reports)
Level of Performance - Exceeding Expectations
Interviews Are Unpredictable
Be ready for anything with the interview simulator.
Paralegal Interview Questions
Question: What motivated you to choose a career as a paralegal?
Explanation: This is an opening or general question. The interviewer will ask this type of question to start the conversation, learn more about you, and collect information they can use for subsequent questions. This is also your opportunity to guide a conversation in a direction you'd like to take.
Example: "I have always been interested in a career in law, but I wasn't sure I wanted to become a lawyer. I thought that by starting as a paralegal, I could gain some experience in the field, learn more about the industry, and decide whether to pursue a law degree."
---
Question: Do you plan to apply to law school, and if so, when?
Explanation: The interviewer will ask this question to see how motivated you are and to learn about your future career plans. Many law firms will hire paralegals who plan to pursue a law degree and will sometimes even help fund their education. Other firms may be interested in hiring paralegals who have no ambition to become a lawyer and therefore will be in the position longer.
Example: "I am very interested in attending law school and obtaining a degree in law. I am looking to joining your firm because it will give me the experience I need to get my degree. It will also help me explore different types of legal practices and decide which one I would like to pursue after I am licensed."
---
Question: What law practices or specialties are you most interested in working with?
Explanation: The interviewer is continuing to explore your background and your preferences within the legal practice. You should have a clear idea of the path you'd like your career to take and be able to discuss your plans as well as your inclinations for legal specialties or practices.
Example: "While my exposure to various legal practices is limited, I would like to pursue a career in criminal law and work with criminal defense teams. I believe this type of work would be very rewarding, and I would enjoy the tasks associated with putting together a criminal defense strategy."
---
Question: What concerns do you have about working on the defense of suspected criminals?
Explanation: This is a follow-up question to your previous answer. You stated a preference for working as a criminal lawyer, so the interviewer is now exploring this topic in more detail. You can anticipate follow-up questions any time you provide an answer to an interviewer's inquiry.
Example: "I really don't have any concerns about working to defend suspected criminals. I believe in the tenant that everyone is innocent until proven guilty. While I recognize some criminals are guilty, they still have a right to a strong criminal defense under the U.S. Constitution. Even if I knew a criminal was guilty of the crime they were accused of, I would still work hard to defend them using all the processes and rights they have under the law."
---
Question: Can you describe the process you use to organize and review legal documents and prepare briefs for the legal team?
Explanation: The interviewer is now turning their attention to operational issues. Operational questions are used to determine your ability to do the job and the processes you use to complete a specific task. Operational questions are best answered directly and concisely with little embellishment.
Example: "When I am asked to organize and review legal documents and prepare briefs for a lawyer, the first thing I do is make sure I clearly understand the objective of the project and the type of information the lawyer is looking for. I then collect the information from a variety of sources and organize them into key topics. I summarize each one and extract the most important information and data. I begin the brief with a summary of my findings, walk the reader through the information in a logical manner, and provide the details of my research, including references to the original documents or information sources."
---
Question: Tell me about a time you had to review a large volume of data and prepare a report under a tight deadline.
Explanation: Having to work under short deadlines and in high-pressure situations is typical for certain legal practices. You should be able to respond to the interviewer by describing how you have done this, the methods you used, and the results of your work. This is an example of a behavioral question which interviewers use to determine how you will react to a specific scenario they create.
Example: "In my last position, I was assigned a project which had an extremely tight deadline. I was required to research a complicated legal issue and provide a brief to the lawyer citing several precedents and crucial legal points. Due to the unique features of the case, I had to comb through a large volume of data to obtain the information I needed. I did this by utilizing online resources, keywords searches, and applications which allowed me to sort through and organize the data quickly and efficiently. The outcome was that I met the deadline and provided the lawyer with the information needed to meet with the client."
---
Question: What experience do you have dealing with confidential and sensitive information?
Explanation: One of the responsibilities of people within the legal profession is maintaining the confidentiality of the information they are privy to. Being able to state your experience doing this or your commitment to doing it is crucial when interviewing for a paralegal position. You may even want to provide an example of how you did this in the past.
Example: "One of the most important things I learned during my education and while working as a paralegal is that client confidentiality is the most important part of the job. As a paralegal, I am exposed to a great deal of information about clients, including their finances, their behavior, and other issues. To work effectively and gain the client's trust, I have to demonstrate my ability to keep this information confidential. I have never violated my confidentiality responsibilities, nor do I anticipate having to do so in the future."
---
Question: Why did you choose to specialize in this particular practice of law?
Explanation: The interviewer will ask this question to find out more about your background and motivation. Usually, this question is asked early in the interview, but they can circle back to general questions at any time in the process. No two interviewers are alike, so you shouldn't become complacent and think you can predict the flow of an interview. You need to be prepared for different types of questions at different times.
Example: "I chose to specialize in real estate law because my family manages several investment properties, and I became fascinated by the industry. I enjoy learning more about real estate law, practices, issues, and procedures while enhancing my ability to develop my own real estate investment practice at some point in the future. I also believe this is becoming one of the fastest-growing segments of the legal industry."
---
Question: Can you describe a time when you had to analyze a complex legal issue and prepare a brief for the lawyer you were working for?
Explanation: This is another behavioral question in which the interview is creating a scenario and looking to see how you went about addressing it. Behavioral questions are best answered using the STAR framework. You restate the Situation, describe the Task you need to accomplish, discuss the Actions you took, and finish by talking about the Results you obtained.
Example: "In my previous position, I was asked to analyze the impact of social media on a defendant's right to privacy. My task was to determine if the person we were defending could obtain a fair trial even though there was a great deal of negative information about them on social media platforms. I did a great deal of research about the issue using the Lexus and Nexus databases and found precedents both for and against the arguments the lawyer was preparing. I summarized these in a brief which the lawyer used to prepare the case. By citing some of the precedents I had identified, the lawyer was able to convince the judge that the case was compromised. The judge dismissed the case against the defendant, and the lawyer credited this to my work."
---
Question: How has your formal education and prior work experience prepared you to work as a paralegal?
Explanation: An interviewer will ask this type of question to understand your qualifications, experience, and skills you have gained in both your formal education and the work you've done in the past. The key to answering this question successfully is aligning your experience, knowledge, and skills with the requirements for the job. You can do this by reviewing the job description and your resume in advance of the interview and noting parallels between the items listed in these two documents.
Example: "While in school, I not only learned about the specific practices your firm is engaged in, but I also interned with a firm similar to yours. While there, I observed the processes and procedures they used to collect information and organize their cases. I feel both my education and this internship experience has prepared me for the paralegal position you're looking to fill, based on the job description you published."
---
Additional Paralegal Interview Questions
Do you know how to use Westlaw?

How do you stay organized when dealing with multiple assignments?

Have you ever interviewed a witness?

How would you put together a closing binder?

Tell me about your experiences with the judicial system.
A word of warning when using question lists.
Question lists offer a convenient way to start practicing for your interview. Unfortunately, they do little to recreate actual interview pressure. In a real interview you'll never know what's coming, and that's what makes interviews so stressful.
Go beyond question lists using interview simulators.
With interview simulators, you can take realistic mock interviews on your own, from anywhere.
My Interview Practice offers a simulator that generates unique questions each time you practice, so you'll never see what's coming. There are questions for over 120 job titles, and each question is curated by actual industry professionals. You can take as many interviews as you need to, in order to build confidence.
List of
Questions
In-Person
Mock Interview
My Interview
Practice Simulator

Questions Unknown Like Real Interviews

Curated Questions Chosen Just for You

No Research Required

Share Your Practice Interview

Do It Yourself

Go At Your Own Pace

Approachable
The My Interview Practice simulator uses video to record your interview, so you feel pressure while practicing, and can see exactly how you came across after you're done. You can even share your recorded responses with anyone to get valuable feedback.
Check out My Interview Practice
Positions you may be interested in
The better way to practice interviewing.
Simulate realistic interviews for over 120 job different titles, with curated questions from real employers.
Learn More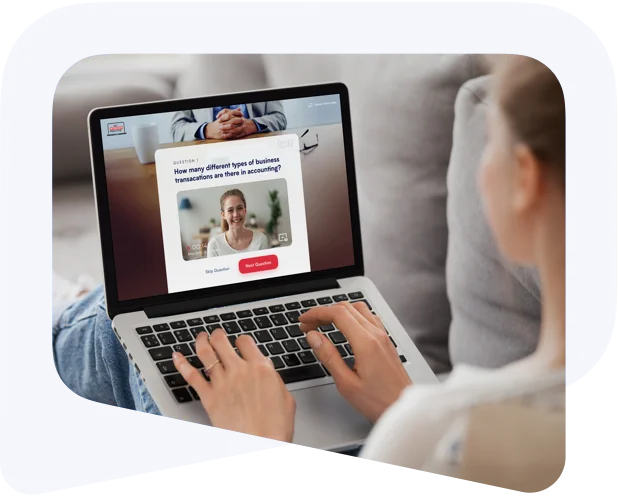 Get the free training guide.
See the most common questions in every category assessed by employers and be ready for anything.
Get the Guide