BACK
Art Director Interview Questions
Position Summary
Art directors are responsible for supervising and directing the visual style and layout of various mediums including television commercials, internet ads, direct mail, and poster artwork. They are in charge of making sure an advertisement reflects brand personality while also encouraging consumers to purchase from or engage with that brand.
Art directors oversee the process of ad design. They will often allocate their resources based on funds from the client and guide other artists and copywriters in the direction they want to go.
Responsibilities
Art director responsibilities may include:
Developing an advertisement's visual layout
Deciding which art medium is appropriate
Communicating with clients about budget and style
Creating presentations for clients
Supervising staff
Skills
The world is oversaturated with brands and advertisements which are all competing for customer attention. In order to develop visually appealing work that will catch the consumer's eye, a skilled art director will:
Effectively assess staff strengths and weaknesses and utilize them accordingly
Keep client's informed throughout the process to ensure they get the product they want
Responsibly utilize the allocated budget
Communicate with staff to provide clear guidance
Possess expertise in all art mediums
Qualifications
To secure a position as an art director, candidates will need a minimum of a Bachelor of Arts or a fine arts degree. Additionally, they will need at least five years of experience in the field, working as a graphic designer, editor, or a similar position. Candidates applying to larger companies will typically possess a Master of Arts.
If you're getting ready to interview for a position as an art director, you can prepare by researching the company as much as possible. Learn about the 9 things you should research before an interview.
Salary
Salaries for art directors range between $87K and $167K with the median being $120K.
Factors impacting the salary you receive as an art director include:
Degrees (Bachelor of Arts, Masters of Arts)
Years of Experience
Location
Reporting Structure (seniority of the executive you report to, number of direct reports)
Level of Performance - Exceeding Expectations
Interviews Are Unpredictable
Be ready for anything with the interview simulator.
Art Director Interview Questions
Question: How do you go about developing a new campaign from concept to launch?
Explanation: This is a general question which the interviewer will ask to open the conversation and get you talking. They also use a question like this one to learn more about your background and discover information they can use for subsequent questions.
Example: "When developing a new campaign, the first thing I do is meet with the client to discuss their desired outcomes, marketing objectives, and any other aspects of the campaign I need to know about. I then research the product to determine the audience and the value proposition. I also research the market for competitors with similar products to make sure I don't replicate what is already out there. Once I understand all of this, I develop a campaign, present it to the customer, and make any modifications they require. After this is done, the campaign is ready for launch."
---
Question: What research process do you use when starting a creative project for a new brand?
Explanation: This is a follow-up question to the previous one. The interviewer is interested in learning more about the research process you use when starting a new project. Any time you provide an answer during an interview, you can anticipate follow-up questions. This indicates the interviewer is very interested in the topic and wants to dig deeper into your experience in this area.
Example: "I have found that spending time doing research before commencing with a new project saves time later in the process and results in a higher quality campaign. Research methods I use include searching the market for similar products, viewing marketing campaigns for competitive products, putting together focus groups, and getting their opinions of important product features and the best ways to communicate these, and actually purchasing the products and deconstructing them. The better I understand each of these factors, the easier it is for me to design a campaign that will deliver the results the client expects."
---
Question: What has been your most challenging design project to date, and what would you do differently?
Explanation: When an interviewer asks this type of question, they are trying to determine the scope of your knowledge and experience. They want to understand how complicated a project you've been involved in the past and whether this aligns with the type of work they need you to do for them. They also want to find out what you learned and would do differently moving forward if you made mistakes or the campaign was unsuccessful.
Example: "Probably the most complicated campaign I have ever worked on involved a new product in a new product category. The challenge was educating the target audience about both the product and the product category and then positioning our product as the best option. I learned a lot from doing this, and if I had to do it again, I would perform much more research so I would better understand both the market potential for the product and the critical selling points that would resonate with the audience."
---
Question: How have some of your design decisions helped an organization solve a business problem?
Explanation: Employers will hire you for one of three reasons - to make them money, save them money, or save time. Even though your job is a creative one, the results of your work always need to solve a business problem. You should be able to address how your creativity and the work you do solves business issues and provides one of the three benefits an employer is interested in.
Example: "Whenever I create a design or a campaign, I keep in mind the business issues the company is trying to address. This can range from increasing the market share, establishing a brand, positioning products, or many others. Once I understand the business objective, I can then create a campaign that will address the issues and generate the desired results. On a recent project, I was challenged to establish a new brand and position the product as an alternative to the market leader. The approach I took was to emphasize the product's unique features and how they would make a customer feel like a market influencer."
---
Question: How do you stay current with emerging technologies, and how do you incorporate them into a new campaign?
Explanation: The field of marketing and creative designs evolves quickly. It is closely tied to emerging trends in style, technology, and social issues. Staying abreast of these developments and the technologies related to them is a fulltime job. You should be able to describe how you go about doing this and the systems and technologies you use to stay current.
Example: "Staying current with trends and technology in the creative design industry is challenging because everything moves so quickly. To stay up to date, I use several different techniques, including industry blogs, publications, influencers, and the vendors I work with. I also take time to review the work my competitors create both for inspiration and to ensure I am not copying or replicating what they've already done."
---
Question: Can you describe your experience managing creative resources and budgets?
Explanation: As an art director, not only are you responsible for creating innovative and compelling campaigns, but you also need to manage the team, the resources, and the department's budget. Demonstrating your ability to do this will help position you as being qualified for the art director's position.
Example: "My favorite part of this job is the design and creative process. As the director, I am also responsible for managing the entire department, including the personnel, resources, and budget. I probably spend as much time doing this as I do creating compelling campaigns. The key to this is having a system that gives me visibility into the entire department's operations and provides me with the information I need to manage the department effectively. It also allows me a way to report our results to the senior management team and request additional resources when I need them. I use tools such as Quicken, Microsoft Excel, and Slack."
---
Question: What methods do you use to motivate your creative team when working under tight deadlines?
Explanation: As the leader of a creative team, it is your job to keep the entire team motivated so they will deliver projects on time and within budget. This can be challenging when resources are tight or a deadline is drawing closer. The method you use to motivate your team can vary. The interviewer is interested in learning about your methods and determining if they fit into the company culture.
Example: "As the team leader, it is my responsibility to keep the entire team motivated and on task. This is critically important when working under tight deadlines or when resources are limited. What I have found to work best is frequent and transparent communication so the entire team understands the goals of the project, timelines, and design parameters. I also use positive motivation by acknowledging the accomplishments and contributions each team member makes to the project. Finally, after the project is complete, I provide tangible rewards in the form of a team celebration, bonuses, and individual awards."
---
Question: Who is your greatest creative inspiration, and what have you learned from them?
Explanation: By asking this question, the interviewer will learn about your style and the influence other creative people have had on you. This is important because it will forecast the type of work you will be doing and ensure the interviewer that your style aligns with theirs. It is best to answer this question honestly and forthrightly. It is better to identify creative differences before you take the job rather than after you are in it.
Example: "One of the most influential people to my career was not a designer but rather a musician. Carlos Santana has always forged his own path both musically and from a design standpoint. He was able to create a unique brand in the heyday of rock and roll when most other bands seemed to be following each other and producing the same type of work. The success of his brand is evidenced by the fact that he is still popular decades later and has fans that range in age from teenagers to baby boomers."
---
Question: If you could design or redesign a current product campaign, what would it be?
Explanation: This is another question which the interviewer is asking to determine your style and creative flair. Again, they want to not only learn about your ability to design and create campaigns but also your tastes and the types of things you like. Being honest about this will ensure both you and the organization have similar tastes and will work well together. It will also minimize creative differences after you have been hired. You can also have some fun with this question, so don't be shy.
Example: "If given the opportunity, I would love to work on the original Apple Macintosh computer campaign. This was groundbreaking when it first came out and violated virtually every rule of marketing and advertising. By doing this, Apple was able to create a unique brand that has survived the test of time. The company continued to innovate when they regenerated the product using the color white and the "i" product names. I would also like the opportunity to work directly with Steven Jobs, who challenged his employees to do their very best."
---
Question: Do you work on any creative projects outside of work, and what are they?
Explanation: This is an interesting question in that it addresses what initially seems to be non-work related activities. However, what you do outside of work influences what you do on the job. Knowing this will give the interviewer an idea of who you are as a person and provide a complete picture of you. This is important because people hire people, and you need to be able to fit into the organization's culture as well as do the job for which they are hiring you.
Example: "During my downtime, I love playing my guitar and composing music. This takes advantage of my creative abilities and provides me an outlet to express myself in a non-visual or business manner. I rarely perform my music in public or for other people, but when I do, I usually get positive feedback. This is rewarding because no one is paying me to do it. I also enjoy spending time with my kids and teaching them music."
---
Additional Art Director Interview Questions
What type of programs are you most comfortable working with?

How do you utilize current trends in your work?

How do you prioritize tasks and stay organized?

In your opinion, what makes a good design? Describe your design style to me.

In your previous roles, have you had any web or interactive media design issues? What were they, and how did you solve them?

What is your experience in advertising?
A word of warning when using question lists.
Question lists offer a convenient way to start practicing for your interview. Unfortunately, they do little to recreate actual interview pressure. In a real interview you'll never know what's coming, and that's what makes interviews so stressful.
Go beyond question lists using interview simulators.
With interview simulators, you can take realistic mock interviews on your own, from anywhere.
My Interview Practice offers a simulator that generates unique questions each time you practice, so you'll never see what's coming. There are questions for over 120 job titles, and each question is curated by actual industry professionals. You can take as many interviews as you need to, in order to build confidence.
List of
Questions
In-Person
Mock Interview
My Interview
Practice Simulator

Questions Unknown Like Real Interviews

Curated Questions Chosen Just for You

No Research Required

Share Your Practice Interview

Do It Yourself

Go At Your Own Pace

Approachable
The My Interview Practice simulator uses video to record your interview, so you feel pressure while practicing, and can see exactly how you came across after you're done. You can even share your recorded responses with anyone to get valuable feedback.
Check out My Interview Practice
Positions you may be interested in
The better way to practice interviewing.
Simulate realistic interviews for over 120 job different titles, with curated questions from real employers.
Learn More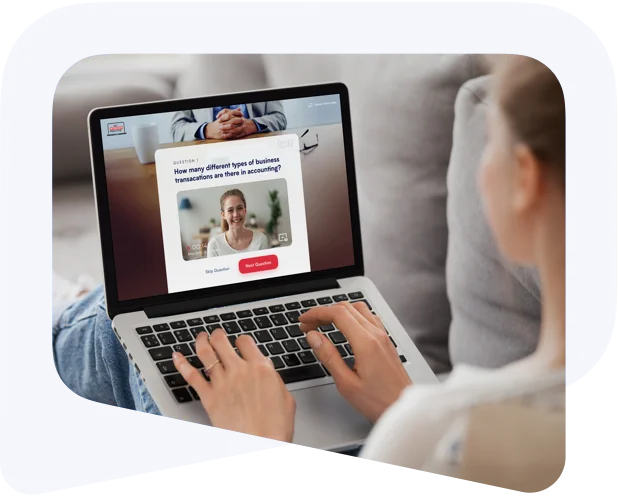 Get the free training guide.
See the most common questions in every category assessed by employers and be ready for anything.
Get the Guide